by Bill Onasch
Vigilance and Celebration
Both are in order after the President blinked. He backed down the day before a scheduled, potentially bloody attempt to evict thousands of peaceful but determined Water Protectors blocking construction of the Dakota Access Pipeline (DAPL) at Standing Rock. The Army Corps of Engineers is now tasked with doing a new Environmental Impact Study which would certainly take months if not years. The DAPL builder has gone to court asking this "capitulation to violent protesters" be nullified. Most legal scholars doubt that will happen–but you never know. A ruling is expected tomorrow.
Leaving aside the scurrilous charge of violent, the lame duck President did indeed capitulate to protect his "legacy." The quick to forgive 350.org suggested we send him a thank-you. I'll pass on that.
The lion's share of gratitude goes to the biggest First Nations assembly in more than a century to stop the Oil Protectors desecrating and polluting the land and water of the Standing Rock Reservation. Special recognition should also be awarded to more than 2,000 military veterans of all colors who volunteered to be a nonviolent "Human Shield" blocking the planned armed assault. Also worthy of acknowledgment is National Nurses United who provided RNs to tend to the wounded and sick in the camps–and contributed fifty-thousand dollars to the veteran's deployment.
If the President-Designate decides not to begin his legacy tangling with the only Americans whose ancestors were already here when the first white immigrants showed up, the DAPL will be rerouted. That would be a big victory for the First Nations worthy of jubilation.
But that would resolve only one of the multiple issues in the fight against DAPL. An alternate route would still bring the same environmental damage to someone else's backyard. The Missouri River—supplying drinking water to hundreds of communities as far away as the St Louis suburbs–has to be crossed. And DAPL's mission is to expand fracking in the Bakken which is highly destructive to both the local environment and the global climate. No matter how the Standing Rock battle plays out the struggle against DAPL needs to continue.
Before leaving this topic I want to defend myself against any charges of Fake News by offering a correction and clarification to the last WIR. I regrettably mangled the name of the company building DAPL. They are actually dba Energy Transfer Partners. I also wrote that Trump had a stake in ETP's parent company. That was accurate as far as anyone outside Trump's inner circle knew last week. Since then a Trump spokesperson astounded everyone by claiming Trump sold off all of his stock and bond investments in June. No documentation of this sale has been released nor was any explanation offered for announcing it only in response to a reporter's question five months later.
Time Cover Honors Legend In His Own Mind
Henry Luce, founder of Time magazine, declared the end of World War II to be the beginning of the American Century. While more modest than Hitler's proclamation of a Thousand Year Reich, now past the half-century mark America über alles has been challenged by various adversaries. It's hard to say what Luce would make of the Person of the Year cover going to a new leader promising to make America Great Again. But I'm pretty sure the stolid newsweekly would never hire him.
Whether from a Trump-branded podium or through the medium of the twit, the man slated to become President-Elect next Wednesday is the role model for Fake News. The diligent New York Times and MSNBC have a tough time keeping up with his volume of what the Brits call porkies passing through his lips and thumbs. I want to mention just one whopper aimed at his newly adopted poster child—the blue collar worker in manufacturing—with his claim that he had worked out a deal with Carrier in Indianapolis to keep 1100 jobs slated to move to Mexico in the Hoosier state.
My first reaction to the original announcement was that it is a violation of the Taft-Hartley Act. The United Steelworkers have exclusive bargaining rights for Carrier's production and maintenance workers and it would be illegal for the employer to negotiate with anyone else. But, for whatever reasons, the union has apparently decided not to file a charge.
A leaflet distributed by the union in the Indianapolis plant this past Monday said 730 union jobs appeared to be "saved" and they "hoped" that wouldn't shrink further. In Carrier's other Indiana plant in Huntington, all 700 union jobs will be lost.
In exchange for this "job saving" the Governor of Indiana—who next Wednesday will become the Vice-President Elect—promised Carrier millions of tax dollars to help them "modernize" the Indianapolis facility. In this instance, modernization is a euphemism for automation—which in the long run will eliminate even more jobs.
Trump later twitted, "Chuck Jones, who is President of United Steelworkers 1999, has done a terrible job representing workers. No wonder companies flee country!"
Trump's deal with Carrier, a division of United Technologies, resembles the Corporatism of a strong leader who set out to make Italy great again in 1922. Workers should be as suspicious of Trump the job saver as the Roman poet Virgil was of Greek neighbors bearing gifts.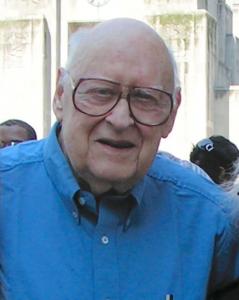 Frank Rosen, 91
Shortly after I posted the last WIR I learned yet another of the workers movement's Greatest Generation had passed away. I got to know Frank Rosen during my years in UE Local 1139 in Minneapolis in the 1970-80s while he was president of District Council 11, based in Chicago. After a plant closing took me out of UE jurisdiction we stayed in touch through our involvement in projects like the Labor Party and US Labor Against the War.
Though we were in different left currents as historically hostile as you could imagine, this was never an obstacle to collaboration in the labor movement or our personal relations. I plan to write more about Frank—just as I promised to do about Jerry Gordon who passed away in October—over the coming holiday break.
In Brief…
* Though it is scheduled the day after the inauguration of the first billionaire President the January 21 Women's March on Washington is not just another anti-Trump demo. It is a long overdue mass protest against attacks on the full range of women's rights and conditions that continued through eight years of a Democrat in the White House. This assault is escalating on state levels even before a more hateful administration begins in Washington. This March deserves the support of the entire workers movement.
* The courts are tough in Texas. They are the go-to venue for blocking beneficial regulations be they for overtime or environmental. Now they are greasing the way for bankrupting unions. The Houston Chronicle reports, "The Service Employees International Union in Texas has filed for bankruptcy protection, three months after a jury in Harris County slapped it with a $5.3 million judgment."
* The Hartford Courant began a story, "Machinists on Sunday overwhelmingly approved a nearly 51/2-year contract with jet engine maker Pratt & Whitney that ends pensions for new hires but increases wages 2.5 percent a year." P&W, like Carrier, is part of United Technologies.
* In breaking news, the New York Times says, "President-elect [sic] Donald J. Trump is expected to name Andrew F. Puzder, chief executive of the company that operates the fast food outlets Hardee's and Carl's Jr. and an outspoken critic of the worker protections enacted by the Obama administration, to be secretary of labor, people close to the transition said on Thursday." He should get along well with Virginia Foxx, the new Chair of the House Labor Committee, who recently remarked that organized labor has "sort of lost its reason for being."
* Twin Cities area readers should check out the events calendar at the St Paul East Side Freedom Library that includes a December 16 showing of one of my favorite films, Cradle Will Rock.
Before I get around to contacting each of you, I want to collectively thank those who responded to my recent fund appeal. I know the timing wasn't ideal with so many worthy causes doing the same, along with Giving Tuesday, on top of the holiday shopping season. Unfortunately it's also a peak time for some of our annual expenses. Your contributions were enough to pay a domain registration fee and to renew our e-mail subscription service for next year—and that's very much appreciated. Of course, donations are welcome any time.
That's all for this week.
---
If you're not already signed up you can get the Week In Review free of charge in one of the following ways.
Really Simple Syndication (RSS)
Simply send your name and e-mail address to billonasch[at]kclabor.org
Follow Bill Onasch on Google +

Our companion Labor Advocate news blog posts articles of interest to working people by 9AM Central, Monday-Friday.
Our sole source of operating income is reader contributions. If you can help please visit the KC Labor Donate page.