#Me Too'
Misogyny–disdain if not hatred of women–is not instinctive but it's been around a long time. Subjugation of women was practiced in the ancient Athens male slave-holder "democracy." It permeates biblical texts shared by the Abrahamic faiths, beginning with Eve's culpability for Original Sin. To this day, the clergy and hierarchy of the Church launched by Peter are still all male who have taken a vow of celibacy. Orthodox synagogues continue to require separate seating for women apart from the men.
While the capitalist era injected an element of romance to relations between men and women it too has adapted misogyny, along with racism, xenophobia and homophobia, to serve their class interests–not only to keep the working class divided but to also impose super-exploitation of women, people of color, and immigrants.
It will take a social revolution to begin a likely generations long process to finally purge these prejudices that infect nearly all, consciously or not, to one degree or another. But that doesn't mean that those oppressed can do nothing meaningful now to resist. Nor should white male workers perceived to enjoy privileges wait until Come the Rev to make everyone whole. The worker maxim that an Injury to One is the Concern of All means gender, color, and ethnic equality need to be integrated in to our ongoing fight for class and climate justice.
***
The fuse that ignited the current #Me Too explosion that erupted around Hollywood mogul Harvey Weinstein was first lit during last year's presidential election campaign. The Washington Post dug up the infamous Access Hollywood tapes recording Trump's crude and lewd bragging about how he had used his power as a rich and famous boss to abuse women. Several women went public with testimony of how they had been victimized. Many thought this would derail Trump's campaign.
While it did cost him a lot of female votes, most of those who had drunk the Make America Great Again koolaid accepted his explanation the tape was just "locker room banter," and his accusers were liars hired by Fake News. With Clinton's bungling—and help from more than a few friends in other lands—Trump managed to pull off an Electoral College upset even though the first woman to head a major party ticket garnered nearly three million more votes of people.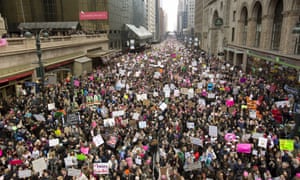 But a lot of women didn't forgive and forget. In the January 23 2017 Week In Review I wrote,
"'We're Not Going Away!'
I didn't know such a science existed until I saw this headline in the New York Times—Crowd Scientists Say Women's March in Washington Had 3 Times as Many People as Trump's Inauguration. They estimate around a half-million. That's not the biggest ever march in Washington but it certainly is an impressive feat for an action organized in about two months while facing many political and logistical challenges.
"But as I read numerous news accounts, supplemented by reports from our readers around North America, it became clear the DC demo was just the tip of an iceberg menacing the Titanic Ship of State steered by the big hands of the 45th President.
"By Sunday afternoon, Ann Montague and Michael Schreiber had posted an excellent piece on the Socialist Action site–The Biggest Protest in U.S. History: Women's Marches Draw 4 Million. The astonishing numbers are based on a tally of 668 demonstrations on all continents, including both low and high estimates. The event I attended in Kansas City was reported as 10,000 by the local NBC affiliate."
Among the millions who marched that day was Jacinda Ardern, the recently elected Labour Prime Minister of New Zealand. She encountered Trump for the first time at last week's APEC meeting in Vietnam. In jest, Trump told another big shot standing next to them "This lady caused a lot of upset in her country." Tempered with a smile Ardern replied, "You know, no one marched when I was elected."
The January protest was, as they say, empowering and it was followed by big marches for science and demands for action on climate change. More such mass demonstrations are needed.
Just as Trump has more challenges than his "woman problem," women are threatened by more than just a Trump problem. Predominantly women mass organizations have long fought for issues such as birth control, Affirmative Action, and an Equal Rights Amendment with mixed results. But disrespect, and sometimes worse, by bosses and colleagues in the workplace has too often been suffered in silence by individuals.
It took a lot of courage to take on Weinstein but it unleashed a lot of pent up anger in Hollywood. Considering Weinstein's predatory behavior was known to insiders it was somewhat hypocritical for the Academy to expel him. The dominoes have continued to fall, including big names like Kevin Spacey–and have spread far beyond Tinsel Town.
Currently a candidate for the U.S. Senate, and a sitting Senator, have been called out. Even those still supporting Roy Moore's Republican campaign to fill a vacant seat in Alabama say they believe the statements of a growing number of women claiming they were abused and even assaulted by Moore when they were teenagers.
Liberal Minnesota Democrat Al Franken found himself in a different pickle. Predators do their dirty deeds out of sight leaving themselves the option of denial. Franken, then working as a comedian, posed for a photograph of a mock groping of a sleeping colleague. Whether genuinely remorseful or making the best of being caught in the act only Franken knows but he apologized for using a woman as an object in a unfunny joke. She has accepted his apology. But one way or another Franken will not escape damage.
Bosses and politicians are not noted for their high moral standards. More troubling are allegations against union officials who are duty-bound to protect workers against sexual harassment and misconduct. A perceptive November 7 article by Josh Eidelson worth reading reported,
"The AFL-CIO's chief budget officer and assistant to Trumka, Terry Stapleton, resigned Monday following allegations of sexual harassment. The Service Employees International Union, the second-biggest union in the U.S., is reeling from its own harassment scandal that has seen the departure of four senior staff."
The same piece that included several other outrageous examples also reported on the official stand of the AFL-CIO,
"Richard Trumka, the head of America's biggest labor organization, opened its October national convention in an unusual way: the AFL-CIO president read a passage from the code-of-conduct and gave out the contact information of two people designated to field any complaints about sexual harassment or other discriminatory or inappropriate behavior.
"'It's a zero-tolerance policy,' Trumka told reporters that day. "'We think we're on the cutting edge of that. And if we aren't, we want to be there.'"
And this conscientious journalist even sought out respected women leaders of the labor community such as this one,
"'Sexual harassment is a reason women organize,' said Kate Bronfenbrenner, a former organizer and now a lecturer at Cornell University's labor relations school. 'But it can be a reason women don't organize.'"
As usual, this sister is spot on. #Me Too should be a remedial lesson for the working class and our institutions. My favorite labor singer Ann Feeney has a song about workplace safety that includes the refrain we just come to work here—we don't come to die. No body goes to work to be sexually harassed and it's our duty to fight to keep workplaces free of that evil—including, and especially, union staffers.
In Brief…
* Another Socialist Alternative in the Twin Cities—Ginger Jentzen lost a close race for Minneapolis City Council but I'm pleased to congratulate another member of her party—and a fellow ATU brother—Ryan Timlin for being elected president of Amalgamated Transit Union Local 1005, representing 2500 bus and light-rail drivers, mechanics, and clerical workers in the Twin Cities. Unlike his comrade Ginger, Timlin ran unopposed. A tough fight for a new contract is expected. One action being considered is a strike during the Super Bowl being played in Minneapolis.
* These Guys Need Tax Relief—The Guardian reported "The world's richest people [1%] have seen their share of the globe's total wealth increase from 42.5% at the height of the 2008 financial crisis to 50.1% in 2017, or $140tn (£106tn), according to Credit Suisse's global wealth report"
* Their Way Or Off the Highway—A New York Times article about how many states take punitive actions against those behind in paying student loan debts includes the danger of having your driver license suspended in South Dakota.
A Mystery
The e-mail delivery service I use for the WIR reports messages that are opened and bounced. Usually the opens are spread over a 2-3 day period. But there were no opens after the first day of the last (November 13) WIR and a number of regular readers were on the "no information" list. If you are on the list and didn't receive the last WIR I would appreciate hearing from you.
That's all for this week.
---
If you're not already signed up you can get the Week In Review free of charge in one of the following ways.
Really Simple Syndication (RSS)
Simply send your name and e-mail address to billonasch[at]kclabor.org
Follow Bill Onasch on Google +

Our companion Labor Advocate news blog posts articles of interest to working people by 9AM Central, Monday-Friday.
Our sole source of operating income is reader contributions. If you can help please visit the KC Labor Donate page.
Privacy Policy. We don't share any information about our readers with anyone else—period.
The original content we provide is copyrighted and may not be reproduced by commercial media without our consent. However, labor movement and other nonprofit media may reproduce with attribution.