When the Going Gets Tough
Irma was the first hurricane in living memory to hit Puerto Rico. Residents were thankful its ferocity was limited to a glancing blow in a relatively small sector. But within two weeks their luck ran out. The very warm waters created as part of global warming sent Maria roaring through in full force, flattening much of the island, knocking out the electrical grid and telephone service, cutting off access to clean fresh water and creating a grave humanitarian crisis.
In the more than two weeks since some aid has been sent. A Navy hospital ship was welcomed. Merchant ships have brought some needed supplies in to the port of San Juan—where they are piling up because of a lack of trucks, drivers, and fuel–and a destroyed road system in the interior. But there has been no real plan, no recognition of the scope and urgency of what's needed.
The U.S. Navy has ten helicopter carriers that could/should by now be anchored off Puerto Rico. Instead of their usual mission of landing Marines in an amphibious assault, their hundreds of choppers could be used to shuttle supplies sitting in the port of San Juan to the cut-off towns and villages that desperately need them. Once areas of need are pinpointed, big Air Force cargo planes could make their precision air-drops of even larger loads.
Navy Seabees should already be working to clear roads, and repairing downed power and telephone lines, as they have done after many hurricanes and earthquakes in the past. Logistic chains and communication networks are the absolute prerequisite for beginning to make Puerto Rico livable again. That requires a scale of resources only a central government can provide.
The New York Times aptly described the satisfaction of the Commander-in-Chief with the present piddling efforts in a digital headline–It's Been an 'Amazing' Aid Effort, if Trump Does Say So Himself. The President reminded us that Puerto Rico is "an island surrounded by water." He also took some pot-shots at Puerto Rico's debt and already decaying infrastructure. He scolded them for being too dependent on the Federal government.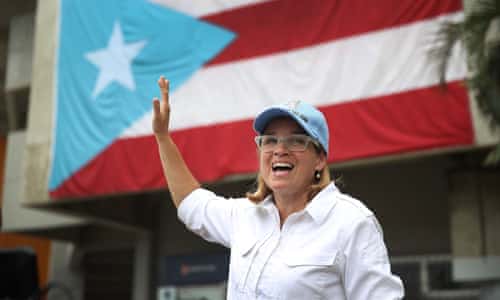 San Juan Mayor Carmen Yulín Cruz has become the most prominent advocate for the Commonwealth. First asking politely, then pleading, she has become steadily demanding more be done by Washington to save those who are in mortal danger because of lack of food, clean water, shelter, and medical care.
Such ingrate behavior riled the leader of the Free World to denounce her in a series of twits from his current weekend White House on a New Jersey golf club he owns. One said,
"The Mayor of San Juan, who was very complimentary only a few days ago, has now been told by the Democrats that you must be nasty to Trump….Such poor leadership ability by the Mayor of San Juan, and others in Puerto Rico, who are not able to get their workers to help."
Puerto Rican workers have in fact been making heroic efforts with few resources. And worker organizations on the mainland have responded with far more urgency than the Administration in Washington.
As they did in Texas after Harvey, National Nurses United has activated their rapid response network and are asking for donations to transport volunteer RNs to help where the few hospitals still standing cannot yet depend on reliable electricity. CWA Flight Attendants are providing a plane to take skilled workers to San Juan where they will be assigned to priority projects.
Hector Figueroa, one of the 5 million Puerto Ricans living on the mainland, is president of SEIU Local 32BJ. He tackles Trump's slurs about Puerto Rico's debt crisis in an excellent New York Times opinion piece—Washington Set Puerto Rico Up For Disaster.
The climate justice movement has joined in the solidarity understanding that Harvey, Irma, and Maria are among the predicted severe weather events related to climate change.
When the going gets tough, workers respond with selfless solidarity while the tough talking Trump bellows at the victims of both storm and system on Twitter–and the Red Cross collects untold millions that will never reach the needy.
We can't eliminate storms—though we can lessen the impact of monster ones like Harvey, Irma, and Maria by rolling back global warming that fed their ferocity.
We should be able to change government—but that will require a party of our own.
Health & Wealth
Once again, neither threats nor bribes could muster enough of the Republican Senate majority to keep their promise to repeal what they call ObamaCare. Exposure of corruption that ultimately led to the forced resignation of Trump's Secretary of Health and Human Services didn't help. Nor did scenes of Capitol Police removing protesters in wheel-chairs.
Democrats claim this as a big victory. While the GOP bill would have been even worse than the Affordable Care Act, there's no reason to pop the cork on even a bottle of California champagne. We're still stuck with the same wretched law written by and for the insurance robber barons. The only thing different is that this spiteful Administration will be actively sabotaging it.
Trump had hoped that savings gained from ending health care subsidies for the poor could be applied to his real top objective—tax-cuts for corporations and the rich. While blaming every Republican not named Trump for this disappointment he is resolutely pushing ahead on this reverse Robin Hood grand larceny.
In appealing to Trump's largely imaginary white working class base, Republican TV spots are expropriating a term long used by union bureaucrats and reform Democrats who feel uncomfortable talking about class—working families.
Richard Rubin writes in a perceptive Wall Street Journal piece, GOP Challenge With Tax Plan: How Far to Cut Rates For the Rich,
"The party's tax-plan framework, unveiled this past week, jettisoned some tax cuts Republicans have long supported for high-income households, leaving rates on capital gains and dividends untouched. The party also has shown an openness to keep the top tax rate for individuals near its present level of 39.6% and has proposed to cut deductions on state and local taxes that could leave some wealthy households paying more. President Donald Trump, for his part, has said the party's tax plan wouldn't benefit the wealthy, including himself.
"Those moves would all help the GOP defend itself against attacks that its tax policy tilts toward the top of the income scale. The problem, so far, is that core features of the plan do just that. As the party turns that outline into legislation over the next few months, it will be repeatedly confronted with the challenge of reconciling Republicans' desire for rate cuts with their claims about who should pay less."
An additional challenge can't be solved by a bait-and-switch political sales pitch. The GOP's own principles left over from Gingrich's Contract on America mean shrinking revenue has to be offset by cuts in spending. That's why their linear logic led them first to the mother lode of health care spending. Except for sacred military spending, there's no comparable items available to be used to enrich the richest.
There's nothing new in these growth through tax-cut schemes that have a dismal track record of failure. Our old arguments are still valid.
But, unlike the dust-up over health care, any defections from party ranks are likely to come from pro-growth Donkeys eager to get relief for "working families."
Rubber Bullets Against Paper Ballots in Barcelona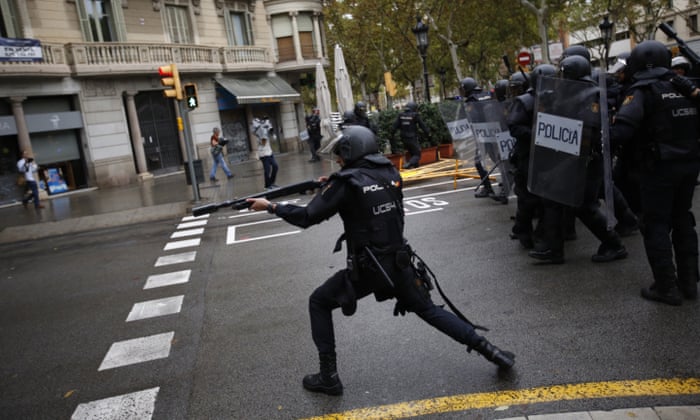 As I write, reports are breaking about the Guardia Civil militarized police of the Spanish state violently disrupting a referendum of the Catalan people over whether to declare their independence from the Madrid government that conquered and annexed them three centuries ago.
This attempt to peacefully exercise their right of self-determination was preceded by massive pro-independence demonstrations that left little doubt about the likely outcome of the vote. Indigenous Catalan police refused to obey orders from Madrid to confiscate ballots and block polling places. That's when paramilitary national police were sent in—an intervention not seen since the Franco dictatorship.
Many working class organizations in the Spanish state are showing solidarity with the Catalan nation. British Labour Party shadow prime minister Jeremy Corbyn has denounced the "shocking violence" against voters. A Catalan solidarity march was hastily organized in Edinburgh, Scotland—another nation with a strong independence movement.
The right of self-determination for oppressed nationalities is vital to working class unity. Catalan deserves our support.
That's all for this week.
---
If you're not already signed up you can get the Week In Review free of charge in one of the following ways.
Really Simple Syndication (RSS)
Simply send your name and e-mail address to billonasch[at]kclabor.org
Follow Bill Onasch on Google +

Our companion Labor Advocate news blog posts articles of interest to working people by 9AM Central, Monday-Friday.
Our sole source of operating income is reader contributions. If you can help please visit the KC Labor Donate page.
Privacy Policy. We don't share any information about our readers with anyone else—period.
The original content we provide is copyrighted and may not be reproduced by commercial media without our consent. However, labor movement and other nonprofit media may reproduce with attribution.