Nissan Part Two
The United Auto Workers' organizing drive at the giant Nissan plant in Canton, Mississippi once showed some promise of becoming the biggest union victory in the Deep South since the United Food & Commercial Workers won bargaining rights—and a contract—at Smithfield's huge hog plant in Tar Heel, North Carolina in 2008. A win at Nissan would have been the first at a Japanese auto company "transplant" in the U.S.
The 4.7 million square foot facility, with annual capacity for assembling 450,000 vehicles, opened 14 years ago. It utilizes a workforce of up to 6,400 during production peaks. However, this includes hundreds of managers and professionals–and more than 2,000 contract workers provided by Kelly Services not directly employed by Nissan. The production & maintenance bargaining unit established by the National Labor Relations Board included about 3,500 regular Nissan employees.
According to Nissan, 46 percent of management are "minority;" 62 percent of the workforce is "diverse." But multiple sources report that about 80 percent of those who were eligible to vote are African-American. Historically, Black workers, North and South, have proven to be more receptive to unionization than their white coworkers. But every campaign is unique and demographics alone don't determine the outcome.
Organizers have long realized that unions don't organize workers—bosses do. Treatment issues usually mean more than dissatisfaction with wages. In fact, the Nissan workers are not toiling for poverty wages like those in Tar Heel once were, or the fast food workers fighting for 15 and a Union are today. Their relatively high pay for Mississippi where unions are rare make those jobs sought after. But treatment is another matter.
As early as 2005, tiny groups started clandestine meetings to discuss the need for a union and decided to contact the UAW. Proceeding cautiously, by 2010 a reliable ongoing organizing committee representing most departments was established.
As Nissan came to realize they faced a real threat they began to implement standard measures of spreading fear and intimidation. In early 2015, citing concerns over labor relations guidelines of the multi-nation Organization for Economic Cooperation and Development, the State Department of all people offered to mediate the disputes in Canton—promptly rejected by the company. Later that year the NLRB issued complaints against Nissan and Kelly for illegally threatening to close the plant if an "outside" union got in. That complaint is still outstanding and the union has since filed several additional charges.
After the NLRB involvement the field organizers were directed by Detroit to reach out for allies in the community and sympathetic mass organizations. They did a good job in pulling together a broad coalition called the Mississippi Alliance for Fairness at Nissan that included other unions, civil rights, church, student and environmental groups. They carried out civil disobedience that convinced Nissan to reinstate a fired UAW worker in the plant.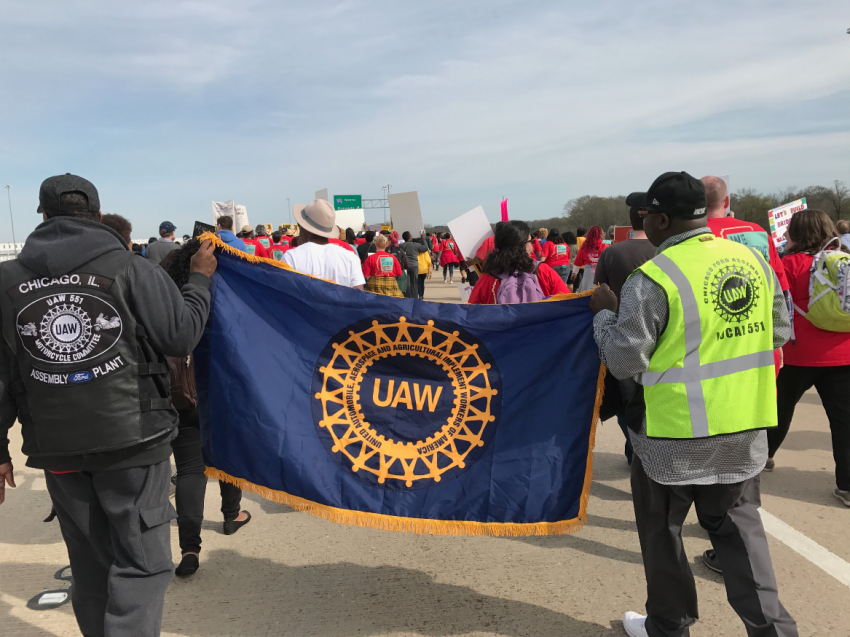 This past March, the Alliance organized a 5,000-strong march and rally in Canton that brought in workers from around the country—and Nissan workers from Brazil–to show solidarity. The rally also featured prominent speakers such as Bernie Sanders and Danny Glover.
Such actions are vital to winning whether it be initial organizing campaigns or struggles by established unions. But the very success of the Alliance appears to have led the UAW tops to rush a premature bid for an election. The UAW turned in authorization cards for a small majority of Nissan workers.
A cardinal rule of successful organizing that I learned in the UE back in the day is to expect some support will be lost in a vicious company campaign–and you will likely need at least 70 percent on board from the beginning. Only after filing did the UAW flood Canton with organizers to make crucial home visits that should have been done months in advance.
It didn't help the election came after a well publicized defeat of a Machinists attempt to organize a Boeing plant in South Carolina. And just days before the vote a rare scandal involving alleged collusion between a Fiat-Chrysler manager and a now deceased UAW official to embezzle funds from a Detroit Joint Training Center was making headlines.
The final tally of the August 3-4 vote was 1,307 for the UAW, 2,244 for no union. On the basis of several pending Unfair Labor Practice Charges, the union is asking the NLRB to set aside this vote and schedule another election once the charges have been resolved. Even if the Board agrees, a rerun shifting a thousand No votes to the union would be a long-shot indeed.
The USA has the most repressive labor laws of any industrialized "democracy." These make it difficult for even the best-led organizing drives to succeed. Winning only guarantees the right to bargain with the employer. Many never get a first contract. Failure to win a contract within the first year can lead to a new election to decertify the union.
In the seventy years since the Taft-Hartley Act was enacted perfidious Democrat "friends" have not lifted a finger to ameliorate, much less repeal what John L Lewis called the Slave Labor Act.
While many good things were done right at Nissan the end game chosen by the Solidarity House bureaucracy certainly can't be called well-led. But that won't come as a shock to those familiar with the evolution of what was once America's most influential union. (For some of that background see Nissan Part One in the last WIR.)
KC Voters Follow WIR's Lead
OK, granted most voters in the Kansas City special election this past Tuesday have never heard of the Week In Review. Still, I take some rare gratification in promoting what proved to be the winning side.
Narrow majorities passed Question 1 and rejected Question 2. This prevents City Hall initiating any new development scams posing as transit improvements without prior voter approval. And current plans for streetcar expansion, and Clay Chastain's boondoggle rail scheme financed through increased sales tax, were also derailed for now. They couldn't fool all the people all the time.
The Regional Transit Alliance that was supposed to bring together governments, transit users, and transit workers was again exposed as shills for ruling class "developers" and deserve their zero credibility. There remains a crying need for unity of transit riders, environmentalists, and transit workers to develop and advocate a genuine plan for transit revival in Kansas City.
Question 3—which City Hall tried to keep off the ballot and only appeared due to an order by the Missouri Supreme Court—won in a landslide. It establishes a city minimum wage that would begin at 10 dollars an hour—a substantial boost over the current state minimum of 7.70–and would grow in annual 1.25 increments until hitting 15. It, of course, should be more, and sooner, but it is a welcome down payment that would help tens of thousands of workers to begin to move beyond poverty.
Like most Trumpite controlled legislatures, the one in Jefferson City has passed a "preemption law" forbidding municipal minimums—but it hasn't yet gone in to effect. The Question Three victory will remain tentative until it is ruled on by the state Supreme Court.
***
The above two stories are fresh examples of how the capitalist ruling class uses their political monopoly to utilize all branches of government against the working class in such basic, vital struggles as union organization and winning a living minimum wage. Until we break that monopoly we will see many more such defeats and tenuous partial victories.
Just as British workers are reclaiming their Labor Party after the Blairite "New Labor" attempt to make them the British section of the American Democrats, we urgently need to revive the labor party movement in this country. The most promising recent effort launched in 1996 had a program that called for repeal of Taft-Hartley, opening the way to reviving the tactics that won organizing and bargaining victories by the UAW and many others in the 1930s, and briefly after the end of World War II. It also included the demand for a national minimum wage that, with inflation, would start at 15 dollars today and be adjusted to the rise in the cost of living.
That once promising project failed for reasons too many and complex to again review here. Some who went through that experience say "been there, done that." They either futilely try to ignore politics–or have got on board the "Bernie" band wagon's umpteenth attempt to reform the bosses' "good cop" Democrats.
We have seen how UAW partnership with the boss at the Big Three had/has disastrous consequences for the workers and retirees they represent–and undermined their appeals to the unorganized. It's up to UAW members to change that.
Nor will any lasting good come from the partnership of even the most progressive union leaders with the Berniecrat wing of the opposition boss party. It's Them and Us in the workplace which is why we need combative unions. We need to also recognize that it's Them and Us in the political arena–and that requires a fighting labor party of our own.
Not Bed Time Reading
Trump's plumbers haven't yet stopped all the leaks. A peer-reviewed draft report by government scientists about the impact of climate change on the USA was acquired and published by the New York Times. As I write, Trump has not yet indicated whether he will allow the report to be published on a .gov site.
I plan to focus on this milestone report in the next WIR. If you're not up to 673 pages, you can get started with the initial summary by the Times.
That's all for this week.
---
If you're not already signed up you can get the Week In Review free of charge in one of the following ways.
Really Simple Syndication (RSS)
Simply send your name and e-mail address to billonasch[at]kclabor.org
Follow Bill Onasch on Google +

Our companion Labor Advocate news blog posts articles of interest to working people by 9AM Central, Monday-Friday.
Our sole source of operating income is reader contributions. If you can help please visit the KC Labor Donate page.
Privacy Policy. We don't share any information about our readers with anyone else—period.
The original content we provide is copyrighted and may not be reproduced by commercial media without our consent. However, labor movement and other nonprofit media may reproduce with attribution.