First Casualty Multiplied
Hiram W Johnson, a long-serving Republican Senator from California, is generally credited as being the first to use the phrase "Truth is the First Casualty of War" in 1917—directed toward the duplicity of Woodrow Wilson. President Wilson, after winning reelection by bragging "he kept us out of war," a few months later took America in to what he promised would be a War to End All Wars—and won a Nobel Peace Prize for his effort. As we noted in the last WIR, his lies and reputation are still revered by today's bipartisan Establishment.
It is unlikely the current liar in the White House will be treated so gently even by official historians. The mainstream media removed their kid gloves even before he took office. Still, that doesn't mean they deliver the whole truth and nothing but about war.
Just a few days ago, Trump astounded friend and foe alike by announcing he was prepared to accept an agreement to end the bloodshed in Syria that would leave the regime of Bashar al-Assad in power. Past multilateral negotiations had failed mainly because of U.S. insistence that Assad must go.
But Thursday evening, Trump made a brief address to "My Fellow Americans" motivating a missiles strike he had launched against Syria. He claimed it was in retaliation for a gas attack ordered by Assad against his own people resulting in about eighty deaths. Trump described it–"It was a slow and brutal death for so many. Even beautiful babies were cruelly murdered in this very barbaric attack. No child of God should ever suffer such horror."
The deaths were real. Whether they were intentionally inflicted—and if so on whose orders—are contentious. Trump's touching sensitivity about all children of God was not offered for the 300 civilian residents of Mosul, Iraq—mainly children and their parents—who perished in American bombing of their shelter.
A Syrian air base alleged to have been involved in the gas attack was pulverized by dozens of Tomahawk Cruise Missiles (1.5 million a piece plus fuel and labor) launched from Navy Destroyers on the eve of a Summit with the President of China. Advance warning was given to Russian personnel on the base who presumably relayed it to their Syrian hosts. Still there were at least 13 fatalities.
The First Casualty principle makes convincing culpability in the gas attack difficult to establish. We shouldn't forget the outright lie of Weapons of Mass Destruction used by Bush II and Blair to launch the disastrous and illegal Iraq war. You don't have to be a supporter of Assad to recognize how foolish it would have been for him to so quickly blow off the diplomatic victory Trump had just given him by launching a gratuitous gas attack on a small village.
In the past, the America First Trump rejected a world cop role for the USA. But with stinging defeats for his domestic agenda, bitter infighting within his administration, and alarming drops in opinion polls, he could not resist the temptation to try to rally patriots around the flag as so many of his predecessors did with mixed results. Among those saluting the Liar-in-Chief was the candidate who finished first in the popular vote last November.
Nothing good comes from the attack on Syria. Regime change in Syria needs to be accomplished by Syrian workers and peasants—not more foreign bombs and troops.
Whether Trump's illegal Thursday attack was a one-off stunt or an embrace of the Bush Doctrine, expanded by Obama, remains to be seen. Either way our response should be clear.
Hands Off Syria!
Bring All the Troops, Pilots and Sailors Home Now!
[The above section of the WIR also appears with my permission on Socialist Action.]
The Short Lived Trump Bump
The 45th President is all about jobs, jobs, jobs. That's his purported motive for attacking labor, environmental, and financial regulations long called job-killing by bosses and bankers. The stock market went wild, and so-called consumer confidence surged, the day after it became apparent that his second place finish in votes by people was good enough to place first in the Electoral College.
But that party is over and those sobering up after celebration will need more than fizzing tablets to avoid hangover. The BLS March Jobs Report showed a net increase of only 98,000 jobs. That was about half of what had been anticipated and less than the average number of first-time job seekers entering the labor market.
Along with the Federal hiring freeze imposed by the Jobs President, the loss of 30,000 jobs in the retail sector was particularly disappointing. A somewhat gloomy New York Times article quotes a less than optimistic economist,
"'We've given up on waiting for hard data to improve,' said Rob Martin, an economist at Barclays. 'It's been five months since confidence increased. If consumption were going to improve, it would have already.'"
A category that remained unchanged is 5.6 million part-time workers who want full-time jobs. The average work week also remained stuck at 34.3 hours and overtime dropped a tick. Average hourly earnings of private-sector production and nonsupervisory employees increased by 4 cents to $21.90.
Granted, one month does not a trend make. But if the Trump budget were to be passed just its steep cuts in transportation funding would lead to substantial job loss—not only in operating trains and buses but in vital infrastructure repair and needed up grades. A single derailment near Penn Station in New York City last week caused chaos for millions of commuters in the New York-New Jersey region.
Trump may have created a speed bump with the down side just beginning.
In Brief…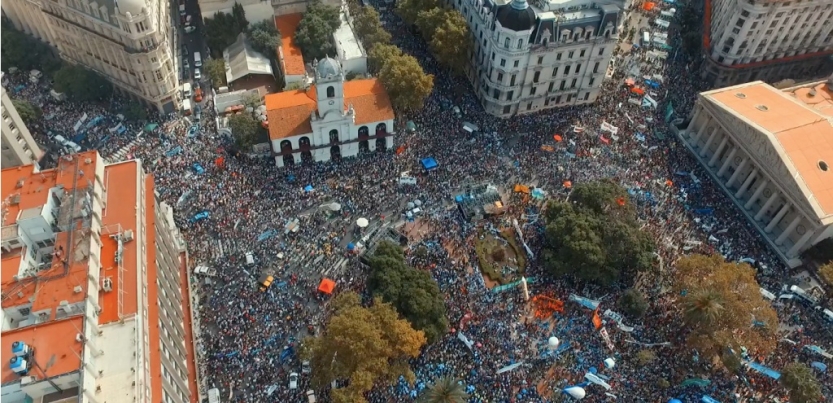 * They're Not Just Crying In Argentina—Labor Notes has posted a comprehensive article by Martin Samartin on the scene in Buenos Aires that begins, "For five weeks teachers in Argentina have been on strike almost continuously, using the days they do go to school to explain to students and parents the reasons for their conflict with the national government. Today, they're joined by the rest of the country's workers, in the first general strike under President Mauricio Macri. Strikers are protesting a wave of pro-corporate reforms including subsidy cuts that have led to massive increases in utility bills, exacerbating the country's growing poverty rate."
* Returning to Sender—Fortune reports, "As AT&T struggles with several difficult union contract negotiations, the carrier hammered out a deal with 20,000 workers in five states. Part of the agreement includes a commitment by AT&T to hire 3,000 people locally for jobs that have been previously outsourced, mostly overseas."
* Not Pie In the Sky—Philly.com reports, "Baggage handlers, wheelchair attendants, sky caps, and other passenger service workers employed by airline contractors at Philadelphia International Airport have voted overwhelmingly to join Service Employees International Union Local 32BJ. The vote, which was held Tuesday night, was 406-58 in favor of joining the nation's largest property-service workers union. It took four years and numerous protests for the SEIU and the workers, who currently number 1,400 and work for subcontractors hired by various airlines, to get the secret-ballot National Labor Relations Board (NLRB) election."
* A Ford Mechanic You Can Trust—An AFP dispatch begins, "France's latest celebrated underdog is Philippe Poutou, a Ford factory worker and head of an anti-capitalist party who became one of the stars of the second presidential debate. The far-left candidate started on Tuesday night by refusing to take part in a group photo and became ruder as the night went on, emerging in the process as a voice of voter anger in a campaign dominated by scandals."
* Richer and Poorer In Sickness and Health—This Guardian article began with perhaps not breaking news, "You can't buy time – except, it seems, in America. Increasing inequality means wealthy Americans can now expect to live up to 15 years longer than their poor counterparts, reports in the British medical journal the Lancet have found. Researchers said these disparities appear to be worsened by the American health system itself, which relies on for-profit insurance companies, and is the most expensive in the world. Their conclusion? Treat healthcare as a human right."
That's all for this week.
---
If you're not already signed up you can get the Week In Review free of charge in one of the following ways.
Really Simple Syndication (RSS)
Simply send your name and e-mail address to billonasch[at]kclabor.org
Follow Bill Onasch on Google +

Our companion Labor Advocate news blog posts articles of interest to working people by 9AM Central, Monday-Friday.
Our sole source of operating income is reader contributions. If you can help please visit the KC Labor Donate page.
Privacy Policy. We don't share any information about our readers with anyone else—period.
The original content we provide is copyrighted and may not be reproduced by commercial media without our consent. However, labor movement and other nonprofit media may reproduce with attribution.