A Clean Win For Janitors
It took six years of strikes and demonstrations but the tenacity of 600 Twin Cities janitors, nearly all people of color, many of them immigrants, has secured a first union contract. It was a tripartite struggle. These members of SEIU Local 26 actually clean Big Box retail stores like Target, Best Buy and Macy's. But their paychecks come from janitorial service companies contracted by these high profile merchants. The pressure on these retailers, who didn't like being associated with the ruthless exploitation by their contractors, is what finally won an agreement that lays a foundation for even better future gains. This concludes the Good News section of this WIR.
Fake News
I received a gushing e-mail from Jobs with Justice repeating hype they had been told about a "breakthrough settlement" ending a 105-day strike at the Momentive Performance Materials chemical plant in Waterford, New York. I am always eager to find some upbeat labor stories so I did some digging. I found a comprehensive description of the deal, brokered by Democrat (and Working Families Party) Governor Cuomo, in the Albany Times-Union, a paper often giving fair coverage to unions.
That paper's honest reporting made clear that the breakthrough benefited only the hedge fund vulture owners determined to make Momentive more attractive for a "flip" to another buyer. The final deal was even more onerous than what the workers in two IUE-CWA Locals had overwhelmingly rejected when they went on strike in November.
Retiree health insurance was eliminated and active worker benefits greatly reduced. A week of vacation time was lost. The signing bonus in lieu of a wage increase was further slashed from the pre-strike offer of 3,000 dollars to 1,000. And the agreement did not guarantee reinstatement of 27 workers fired for "strike misconduct."
I would never second-guess workers, most with families to support, who after going without pay for more than three months reluctantly decide to go back to work with their union intact to fight again another day. Even then the vote in the main Local of production workers was no slam dunk–317-211 to accept the Governor's deal.
I don't know enough about the union's strategy and tactics to rush to judgment of a "sell-out." Sometimes the relationship of class forces confounds even ably-led unions. There is no dishonor in losing a bravely fought battle. The Hormel P-9 workers, the Detroit newspaper strikers, and the Staley Road Warriors, vanquished during the Eighties and Nineties, remain heroes in my book. But those who try to spin a devastating defeat in to a breakthrough victory deserve nothing but contempt.
The Decline of the Strike
In the February 2 WIR I looked at the annual report from the Bureau of Labor Statistics that showed another decline in union membership and density numbers. This month I'll deal with the BLS report on strikes.
While there was actually a slight uptick in the number of strikes, strikers, and strike durations last year over 2015 numbers it is unlikely this indicates a reversal of the decades long decline in these stats. The big CWA-IBEW strike against Verizon is what swelled the 2016 figures.
However, there are some caveats to keep in mind in analyzing the downward trend. The BLS only counts strikes or lockouts of 1,000 or more workers. The Momentive strike that began last year, and the Twin Cities janitors are examples of those too small to be counted. Nor are short strikes by workers without a certified union—such as thousands of fast-food and airport service workers fighting for 15 and a Union—tallied.
A thousand was a more reasonable cut-off when these reports began in 1947. But private sector workplaces have been greatly reduced in size by technology and outsourcing. National contracts that once covered tens, even hundreds of thousands of workers are today rare and the few remaining have shrunk drastically.
But these factors, that also contributed to union membership loss, don't fully account for the much steeper decline in strikes that have plummeted over the last few decades. From 1967-76 there were 3,321 major strikes. For 1987-96 that number was down to 404. In the just concluded 2007-16 there were only 143.
The WIR format is inadequate for an in depth analysis of the factors leading to this paucity of strikes—the traditional "ultimate" workers' weapon in the class struggle in the workplace. But above all, it certainly involves a dominant trend of the mainstream union bureaucracy abandoning adversarial unionism to seek "partnership" with the boss.
This leads to peaceful surrender of hard won past achievements in wages and conditions—especially through odious tiered wages and benefits affecting only new hires, undermining solidarity. The class collaborationist wing of the bureaucracy that abhors strikes also poisons organizing efforts–dramatically illustrated once more this month.
The IAM's Debacle In North Charleston
The International Association of Machinists and Aerospace Workers drive to organize Boeing's runaway plant in North Charleston, South Carolina was a dismal failure. The NLRB vote was 2,097-731. The IAM total showed they lost the support of more than 700 workers who had signed union authorization cards that led to the election.
Those in the kept media proclaimed this drubbing as reaffirmation of their hope that unions can't grow in the South. That assertion is bogus—there have been more than a few successful organizing efforts south of the Mason-Dixon line during the past few years.
Most early pro-labor commentators speculated that the Machinist organizers had gone off half-cocked and didn't do the necessary home visits and community outreach. That the election was premature is palpable–but that decision was made several pay grades above the organizers on the scene. All indications show the field organizers used all the best practices. In addition to plant gate leaflets they did their home visits, community meetings, and even bought some television advertising. They were assisted by the small but militant local labor movement—especially the predominantly African-American Longshore and ATU transit Locals.
Of course, as could be expected, the company, and the area Chamber of Commerce, spent a lot more money warning unions would block economic growth. Boeing used their "captive audience" meetings with workers to not only slander the union that is their "partner" in Seattle and other places, but also exposing some inconvenient truths.
They not only revealed the rotten sell-out deals like the International leaders had imposed at Harley-Davidson but also at Boeing in Seattle. There the top bureaucracy ganged up with Boeing and state politicians against the Local union to force a contract reopener with enormous give-backs. At the end of the day, too many in South Carolina concluded they didn't need a union to negotiate cuts in wages and benefits.
'Worse Than Wisconsin'
My wife Mary and I have been privileged to closely follow the progress of two sisters since they were toddlers. We've come to be almost as proud of them as their mother—who is a dear friend. The eldest is graduating this Spring from St Olaf and has accepted an offer of Research Assistant at the University of Iowa while pursuing her Master's.
Mary was amazed at the generosity of the Hawkeye offer compared to a RA she had at the University of Illinois in the late Seventies. It includes a middle-class wage as well as tuition and other perks. It turns out this much sweeter deal was negotiated by a remarkable union to which I once paid dues—the United Electrical, Radio & Machine Workers of America (UE).
When I was in UE, I was told our jurisdiction included all those whose work involved using electricity. As their legacy industrial base has shrunk due to plant closings UE has increasingly organized public sector workers. In Iowa this includes state highway crews, and some municipal employees as well as grad students. They are a respected 6,000 member component of a state labor movement that has been bargaining for 184,000 public workers.
You may be wondering why I earlier said I had no more good news. There is in fact terrible news that not just sweet deals for grad students but all contracts for those184,000 public union workers are facing a virtual death sentence that doesn't even include a choice of a last meal. The top officers of UE described in Labor Notes a new public employee labor law, fast tracked through the legislature and signed by the Governor, as "a new union-busting bill worse than Wisconsin."
They explain,
"This legislation is designed to render collective bargaining meaningless by making it illegal to negotiate most of the subjects now covered by contracts, and to cripple unions financially by eliminating the dues checkoff process which union members voluntarily pay to support their union's activities….
"Every union representing public employees will have to win a recertification vote one year before the expiration of each contract. To retain the union, the majority of employees in any bargaining unit—not just a majority of those voting—must vote to retain the union. That's a standard that neither the governor nor a single member of the legislature could meet in their own elections. Furthermore, the union must pay the state in advance for the costs of conducting elections, which is yet another attack on union finances."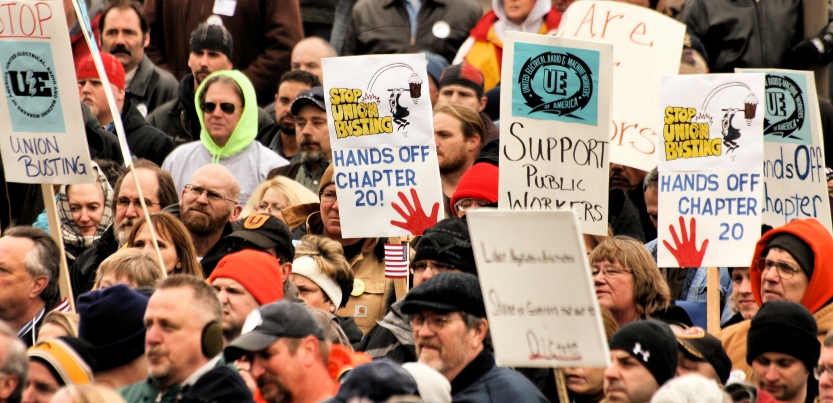 Most readers will remember when the Wisconsin prototype of this even meaner new one was still being debated by the legislature in Madison protesters occupied the state Capitol for weeks and were supported by mass marches numbering in the tens of thousands—effectively blocking legislative business. Some national union leaders and Democrat "friends" convinced the occupiers and demonstrators to stand down and instead burn up their energy in a recall campaign—run by the same Democrats that had just lost an election—which turned out to be a total flop. Public sector unions in Wisconsin subsequently lost more than forty percent of their membership.
While there were some demonstrations in Des Moines there has been nothing on the scale of Madison in 2011. AFSCME is threatening to sue—and good luck with that. In both states labor's Achilles Heel was exposed—we have no party of our own to defend us. The UE was one of the international unions that launched the now deceased Labor Party in 1996. It's high time for a fresh start down that road again.
That's all for this week.
---
If you're not already signed up you can get the Week In Review free of charge in one of the following ways.
Really Simple Syndication (RSS)
Simply send your name and e-mail address to billonasch[at]kclabor.org
Follow Bill Onasch on Google +

Our companion Labor Advocate news blog posts articles of interest to working people by 9AM Central, Monday-Friday.
Our sole source of operating income is reader contributions. If you can help please visit the KC Labor Donate page.