Beware Of Exploding Health Care
Last November the Democrats managed to lose a presidential election despite winning, by a substantial plurality, the most votes. On Friday past, the electoral wizard who won that contest was forced to admit that after all his threats, promises, hosting White House bowling parties, and calling in all political debts, he couldn't get enough votes for his number one campaign pledge in the House–where his party enjoys a 40+ seat majority. This was particularly galling considering essentially the same body had voted to repeal what they call ObamaCare dozens of times over the past six years.
Of course, those earlier repeal votes were DOA in the Senate, and even if slipped through that body would have faced an Obama veto. They became a propaganda ritual to show their base they were dogged promise-keepers.
But when the arch-enemy of all things Obama tried to keep his promise of both repeal, and replace with what was immediately dubbed TrumpCare, it was intended to become law, not a stunt. That led to fragmentation of the GOP House along ideological and survival fault lines.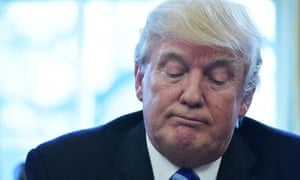 The deal-making artist who refused to deal first blamed the Democrats for his humiliating loss. To be sure, the Dems remained champions of the discredited ACA but they are after all a minority.
Much more damaging was the bipartisan Congressional Budget Office analysis that exposed Trump's plan as a tax cut for the rich that would eliminate health coverage for millions of the poor. That sober assessment greatly contributed to the horrible polling numbers for TrumpCare—which in turn scared off a handful of moderate Republicans who feared voter retribution more than the White House bully.
But that alone wouldn't have led to Trump's fiasco. The multi-billionaire Koch brothers, who have never trusted Trump, favored repeal with no replacement. They moved to stiffen the spines of far-right House Republicans by offering campaign fund bonuses, supplementing their normal generous donations, to those willing to challenge their party's President. The Kochs found more than enough takers to sink TrumpCare.
I admit I underestimated the degree of degeneration of both boss parties. It's a common error, that especially my generation make when we try to anticipate the party moves to govern in the best interest of the ruling class.
As LBJ launched the first escalation of the Vietnam war he at the same time supported landmark civil rights legislation, establishment of Medicare, and War on Poverty. He was followed by Nixon, who expanded the Vietnam war. But also on his watch there were significant reforms such as the Clean Water, Clean Air, OSHA, and the Urban Mass Transit Acts. They each, for a while at least, effectively used both repression and concession to manage an increasingly discontented and divided society through the Sixties and Seventies.
Today hubris is the best description of the ruling class movers and shakers. This has led to an incompetence of both of their parties nearly as great as their cynical dishonesty. Neither inspires confidence in their ability to govern. The second place "greater evil," who entered the White House through the Electoral College trap door, hasn't yet accomplished anything that can't be done by executive decree—and even some of those get shot down by the courts. The Democrat opposition in Congress has no plan other than the same obstruction tactics that the GOP used against Obama.
Trump says he will confidently wait for ObamaCare to inevitably explode before again taking on health care. We shall see if such patient benign neglect is compatible with his temperament. While the inadequacies of the Affordable Care Act are certainly not self-healing it won't go up in flames through spontaneous combustion. But reviving a bruising fight for TrumpCare doesn't seem likely any time soon.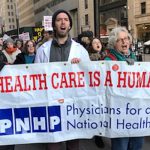 A positive development emerging from Trump's folly is a revival of interest in the single-payer alternative. For example, Saturday's New York Times carried an informative piece by an economics professor entitled What Comes Next For ObamaCare? The Case For Medicare For All.
And the Campaign for Guaranteed Health Care is calling for local actions across the Country on April 8.
Out of the Lobbies—In To the Streets
The TrumpCare debacle will also encourage other "resistance" movements. A new Trump proclamation the morning of his unilateral end of health care hostilities is giving a fresh motivation to the climate justice movement.
On Friday, Trump announced "final" approval for another campaign pledge—construction of the Keystone XL pipeline with a capacity to move 800,000 barrels a day of bitumen sludge from the Alberta Tar Sands to refineries on the Gulf Coast that will convert it in to synthetic oil and gasoline.
In fact, it is not yet final because not all needed land use permits have been acquired for the route through Nebraska. That's a battle to come in the Corn Husker State.
Trump claims thousands of American jobs will be created by this project—though nearly all are short term construction work. Only about 35 regular positions will be needed to monitor and maintain the pipeline. And the TransCanada builder would not agree to validate Trump's oft-repeated promise to use only American-made steel.
The Tar Sands bitumen is the dirtiest fuel of all. Mass actions and civil disobedience stymied KXL for six years. As Bill McKibben, the most prominent leader of this movement recently observed, "We've already won an awful lot. Six years times 800,000 barrels of oil a day equals a lot of carbon emissions saved. Not to mention that six years of delay has cost TransCanada a small fortune." This fight will continue as a featured demand of the April 29 climate justice marches.
Those of us on the old short-lived Purple Army e-mail list received a SEIU blast signed by Kathryn Krasinski, an adjunct professor at Fordham that said,
"From the Fight For $15 to Black Lives Matter and Women's March on Washington, D.C., working people are united in speaking out against the system that is clearly rigged against us. Now we must come together to demand that future generations have a healthy and safe environment in which to live and prosper. Join our growing resistance: on April 29, the 100th day of Trump's presidency, lift your voice in the People's Climate March near you.
"The climate action movement is growing and getting stronger every day because working people around the nation joined the call demanding that we find solutions that will protect our communities for generations to come. Join the movement."
***
A Labor Notes article by Jonathan Rosenblum titled Momentum Builds For May Day Strikes describes early initiatives by SEIU janitors in Los Angeles, a wide section of the Seattle labor movement, and the human rights group Global Exchange, that he believes will lead to the biggest May Day strikes and marches since the mammoth immigrant worker actions involving millions in 2006.
***
While not as massive, and lacking a clear political focus, there will be an Earth Day March For Science April 22. Women and men normally wearing white coats say they will "walk out of the lab and in to the streets." They encourage lay persons to join them in advancing Science Not Silence. In addition to the main march in Washington 428 local "satellite" actions are also shaping up across the USA and many other countries. There is even an option for "virtual" marching via the Internet for those who can't make any of the live events.
Still To Be Heard From
On Bush II's watch, there was a lively, if often divided, antiwar movement. It became much more subdued with a Nobel Peace Laureate in the White House. While other constituencies have been gearing up the peace movement so far seems content to tag along with the others. It's good that they are supportive of others' actions but insufficient attention is being paid to exposing and opposing a heightened military belligerence by the Trump administration.
Enriching the armaments industry capitalists is not the sole objective of the greatly increased war budget. American bombing raids in Iraq have killed hundreds of noncombatants. A thousand Marines were recently sent to Syria. The U.S. is collaborating with Saudi Arabia in deadly bombings in Yemen. After more than fifteen years of war in Afghanistan the Taliban recently won control of a new province–further delaying the timetable for disengagement bequeathed by the Obama administration. And Washington is leading a boycott of UN negotiations to reduce nuclear arsenals.
US Labor Against the War provides some good information but these issues too need to again be raised in the streets. Along with opposing the war spending we need to revive the demand—Bring All the Troops Home Now!
That's all for this week.
---
If you're not already signed up you can get the Week In Review free of charge in one of the following ways.
Really Simple Syndication (RSS)
Simply send your name and e-mail address to billonasch[at]kclabor.org
Follow Bill Onasch on Google +

Our companion Labor Advocate news blog posts articles of interest to working people by 9AM Central, Monday-Friday.
Our sole source of operating income is reader contributions. If you can help please visit the KC Labor Donate page.
Privacy Policy. We don't share any information about our readers with anyone else—period.
The original content we provide is copyrighted and may not be reproduced by commercial media without our consent. However, labor movement and other nonprofit media may reproduce with attribution.