by Bill Onasch
Back on Duty
As long as I suppress my first encounter with air travel in five years, our vacation was just what the doctor ordered. With the help of my partner's patience with both me and the dysfunctional airline industry, I endured the long security lines and cramped seating so we could celebrate the 75th birthday of our Seattle friend Joan Sandler. Joan is an accomplished strings musician, vice-president of AFM Local 76-493 and also involved in the lively broader labor and other social movements in her city. Dozens from as far away as North Carolina showed up for her party.
This big event was organized by the family of Joan's long time companion, and now legal spouse, Rita Shaw. Through our connections in the Labor Party and socialist movements Rita and I go way back and it was through her that I came to know Joan. I got reacquainted with some old-timers I hadn't seen in many years and met some Next Gens for the first time.
While we were in Seattle, we found time to visit with Mary's cousins and peruse Pike Place Market. The local paper reported on civil disobedience by climate activists that shut down oil refineries and there was a major action by Black Lives Matter—but I remembered I should avoid arrest while on vacation.
It's beneficial to have a break like this once in a while but—now back to my day job, already a day late.
A Memorial Day Reminder of Indescribable Injustice
On the Coal Tattoo, there's a video slideshow remembrance of the 29 miners killed by corporate greed at Massey's Upper Big Branch mine in West Virginia April 5, 2010.
Can the Unthinkable Happen Again?
My wife, Mary Erio, does a monthly Safety First feature on the Heartland Labor Forum radio show. After Thursday's show, volunteers gathered for one of their occasional social get-togethers and I accompanied Mary as her guest. I've known the host, Michael Savwoir, even longer than I've known Mary. We were Kansas City delegates to the Labor Party Founding Convention twenty years ago. Now a retired UPS driver, Michael is still a national co-chair of Teamsters for a Democratic Union as well as a faithful radio volunteer. He's also a super-fan of Michael Moore and treated us to a viewing of Moore's latest, Where to Invade Next.
If you haven't seen it I won't spoil what one critic described as "Funny—but also as serious as a heart attack." But I will disclose that he visited a number of countries with working class benefits, living standards and culture far superior to those in the wealthiest country in human history. Most of these advantages were secured by mass socialist or labor parties. One of the most impressive examples documented by Moore was France—now under attack.
In commentary about the Bernie Sanders campaign the WIR has noted there are many varieties of those calling themselves socialists. No where is this more apparent than France. Since World War II the same mainstream Socialist Party that established so many pro-worker reforms was also often in charge of bloody, and ultimately futile attempts to hang on to the French colonial empire in Madagascar, Vietnam, Algeria and, along with the British and Israelis, Egypt's Suez Canal. Today they are involved in numerous military interventions in other people's countries in Africa and the Middle East while they also face big battles with a domestic enemy—and I'm not talking about ISIL terrorists residing in France.
The atrocities committed by jihadist bombers in Paris last year were used by the Hollande government as an excuse for undemocratic emergency powers that have targeted the main enemy—the French working class. Recently, Hollande used an obscure constitutional provision he had often denounced while in opposition, to ram through long threatened "labor reforms" that scuttle hard won job security laws, end national industry wide wage rates and working conditions, and gives short-shrift to the 35 hour work week.
The response of the French workers—so often slandered as lazy by multinational corporations–was swift, massive and is ongoing. Hundreds of thousands have gone on strike and demonstrated in the streets. All of the country's oil refineries were shut down and they were joined by much of the public electricity provider EDF. Airport workers will join in this week and unions are calling for unlimited strikes in rail and transit. June 14 has been designated as a national day of strikes.
Some of these protests spilled over in to Belgium where 60,000 marched in Brussels against schemes under discussion for similar "reforms" to be implemented throughout the European Community. Some socialist and syndicalist activists in the streets distinguished themselves from the neoliberal faux socialists by displaying the slogan "Kill Capitalism."
Clearly, these are more than the symbolic one day protests that are routine bargaining chips in negotiations over government policies. Nothing has been seen on this level since May-June 1968 when France was on the verge of a socialist revolution. Like 1968, university students—the youth who are told they will benefit from the "reforms"–are playing a prominent role along side the workers.
The 1968 upsurge was defused by the Socialist and Communist parties who negotiated additional reforms from the deGaulle regime. Today it's the Socialists in power and as yet they show no inclination to negotiate. I'm not predicting the present struggles will progress to the1968 stage that so inspired me in my youth. Their final destination is yet to be determined. But as the activist intellectual Jean-Paul Sartre said in '68–"What's important is that the action took place, when everybody believed it to be unthinkable. If it took place this time, it can happen again."
The Truth Is Still Rather Inconvenient
It's now been ten years since former Vice-President Al Gore released the film An Inconvenient Truth that, for the first time in the USA, stimulated wide public discussion about climate change. For this popular explanation of basic climate science Gore deserves some recognition. But he offered little useful guidance about what needs to be done to tackle this overarching crisis.
A decade after the milestone film, and six months after the adoption of the "historic" Paris climate treaty, Bob Berwyn writes in Inside Climate News,
"The level of carbon dioxide in the atmosphere is not just rising, it's accelerating, and another potent greenhouse gas, methane showed a big spike last year, according to the latest annual greenhouse gas index released by the National Oceanic and Atmospheric Administration. CO2 emissions totaled between 35 and 40 billion tons in 2015, according to several agencies. Some of that is absorbed by forests and oceans, but those natural systems are being overwhelmed by the sheer volume of new CO2. As a result, the inventory shows, the average global concentration increased to 399 parts per million in 2015, a record jump of almost 3 ppm from the year before. Methane levels jumped 11 parts per billion from 2014 to 2015, nearly double the rate they were increasing from 2007 to 2013. Methane, and other greenhouse gases like nitrous oxide and tropospheric ozone, are measured in parts per billion because the concentrations are lower."
Considering there has been an economic slowdown in China, marginal growth in solar and wind power in a number of countries, and near record transit and Amtrak ridership in the USA, these trends are particularly disturbing.
The sharp increase in methane is driven by two developments—release of some long buried methane as Arctic PermaFrost melts; and especially the growth of hydraulic fracturing (fracking) in extraction of both oil and natural gas.
Along with price wars initiated by the Saudis, the new abundance of cheaper oil and gas has led to a revival in road and air travel. And seven years after the Obama administration's Cash for Clunkers program to stimulate demand for smaller, more fuel efficient vehicles the most popular model in the USA is still the Ford 150 pickup truck, closely followed by other trucks, SUVs, and vans. There are about one million plug-in electric vehicles in service throughout the world. There are more fossil-hogs than that sold every month in the USA. Patently, the numerous meager market measures calculated to reduce emissions have been total failures.
The already anointed presidential nominee of the official opposition boss party recently rolled out his energy/environmental policy. Donald Trump has promised to make American coal great again; will approve the Keystone XL pipeline; and will promote drilling and fracking everywhere. He has even made the amazing claim that despite little rain or snow for four years there is no drought in California. Trump sees water conservation as a tree-hugger conspiracy to send fresh water in to the sea to save some three inch fish. He has pledged to divert all the water that the parched giant corporate farms in the Central Valley need from the Sacramento River—an environmental nightmare.
Trump is not stupid. His cynical message is crafted for workers and farmers who feel threatened by change and want to believe the billionaire con-artist can return America to a mythical greatness. More seriously, Trump hopes to convince the vulnerable energy capitalists that his reality TV shtick can make him their savior.
Early on, Trump could have been laughed off the stage—but not any more. Even as they parse every outrageous and bigoted ad lib coming from his king-size mouth the liberal media promote Trump's credibility as the possible next leader of the "Free World." They calculate such an obnoxious foe will motivate the majority to come out on election day to support an unpopular lesser evil Hillary Clinton. Which ever way that plays out our side—and the future of our planet—will lose.
Next time I will deal with a couple of alternative options. One is an article by Jeremy Brecher on the Labor Network for Sustainability site, the other a much longer, more comprehensive look at inter-related crises in the world by Naomi Klein in the London Review of Books. That's your optional homework.
In Brief…
* As you have undoubtedly heard, an "agreement in principle," brokered by the Secretary of Labor, has ended the strike by 39,000 CWA and IBEW workers at Verizon. As I write, few details have been released other than some job guarantees and a first contract for a few wireless retail stores.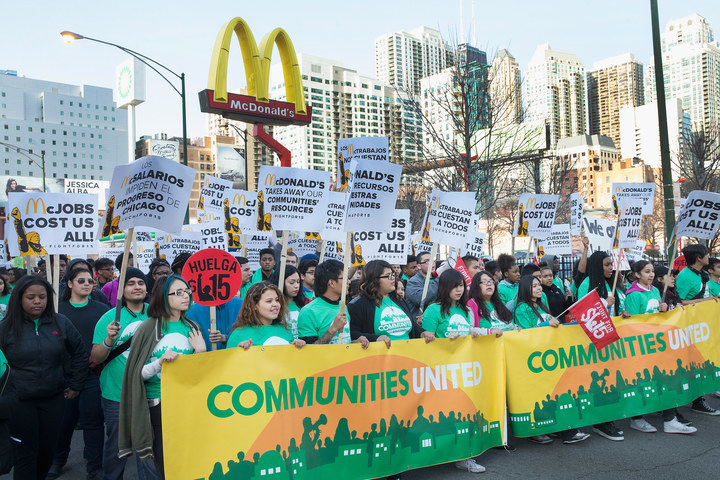 * In an unusual move, the Service Employees International Union has invited Fast Food workers who have been battling for 15 Dollars an Hour and a Union to become SEIU members even though the union doesn't yet have certified bargaining rights. These new members will not be required to pay dues until they have secured union contracts. SEIU has been a major backer of these struggles—and those of many other low wage workers. This organizational innovation is promoted as a way for the workers to have greater participation in planning strategy and tactics.
* Of course, McDonald's is the biggest Fast Food employer. At least a couple of thousand Fast Food workers and supporters rallied in torrential rain outside a McDonald's shareholders meeting in suburban Chicago earlier this past week. Inside, Ed Rensi, who had been the company's CEO in the 1990s, fired a warning shot via Fox Business News, "…it's cheaper to buy a $35,000 robotic arm than it is to hire an employee who's inefficient making $15 an hour bagging french fries."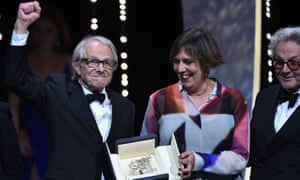 * Congratulations to the veteran British socialist film maker Ken Loach for winning the top prize at the Cannes Film Festival. The film, I, Daniel Blake, centers on the struggles of an aging widower to survive the Tory version of the welfare state. One reviewer said, " There are shades of Dickens and Orwell in this emphatic drama about a disabled man strangled by the red tape of the benefits system" giving it four stars.
* This Thursday, June 2, the East Side Freedom Library in St Paul will mark their second anniversary. In a message to co-founder Peter Rachleff I said, "Your project is a wonderful best example of a rebirth of working class education and culture on the community level that hopefully will inspire emulation as well as praise." The event will run from 5 to 8PM. If you are in the Twin Cities I suggest you drop by.
That's all for this week.
---
If you're not already signed up you can get the Week In Review free of charge in one of the following ways.
Really Simple Syndication (RSS)
Simply send your name and e-mail address to billonasch[at]kclabor.org
Follow Bill Onasch on Google +
Our companion Labor Advocate news blog posts articles of interest to working people by 9AM Central, Monday-Friday.
Our sole source of operating income is reader contributions. If you can help please visit the KC Labor Donate page.