by Bill Onasch
Back to Work
My two week "break" is over. There was in fact little leisure time involved—the past fortnight was devoted to preparation for the table we reserved at the Labor Notes Conference, traveling to and from Chicago, and working on this resumption of the WIR. Tomorrow (Monday, April 11) I'll start posting news stories again on our companion Labor Advocate blog.
The KC Labor conference table went well. We sold all of our book consignment from MayDay Books, all of our Stop Global Warming tote bags, and most of our button supply. We distributed hundreds of copies of three free leaflets we offered and 35 new WIR subscribers signed up. I was also pleased a number of regular readers stopped to chat.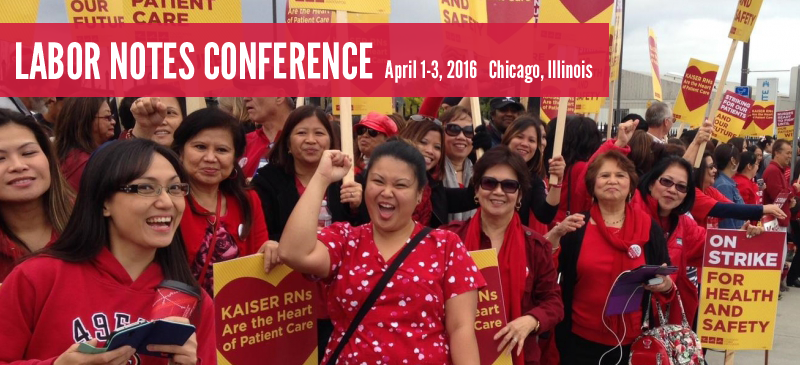 Big, Diverse, Informative–and Another Disappointment
Though official statistics are not yet available there were clearly at least a couple of thousand participants at the April 1-3 Labor Notes Conference in the Chicago suburb of Rosemont.
This was the seventeenth of these biennial gatherings sponsored by the monthly Labor Notes magazine. I've attended more than half of them, including the last six. No votes are taken; they are strictly educational—or promotion of solidarity with ongoing class battles. There are plenaries where everyone gathers; topical concurrent workshops to choose from; and interest groups for those organized in particular unions or industries. You can view the complete Conference schedule here.
An interest group off-shoot is Railroad Workers United an independent rank-and-file group promoting unity in action among the twenty or so different rail craft unions in the USA and Canada. They have taken to holding their conventions just prior to Labor Notes in the same venue.
Most attending are involved in unions or allied groups such as the Fight for 15 or worker centers. They are mostly a mix of rank-and-filers, stewards, organizers, or local officers, but there were at least two international union presidents there as well. And the only socialist currently holding elected office in the USA—Kshama Sawant of the Socialist Alternative Party, serving a second term on the Seattle City Council—was present.
An effort is always made to attract international guests. This year at least twenty other countries from every inhabited continent were represented.
The trend of recent Conferences steadily becoming more diverse in color, gender, and age continued. Grey-haired retirees like me were happy to be in a small minority.
There was a major "disruption" in the long-planned Conference schedule on Friday, April 1—the Chicago Teachers Union strike. The CTU also organized marches and rallies throughout the day, in every area of the city. Thousands of other workers joined these solidarity actions, some of them with ongoing fights of their own.
It was probably the biggest worker mobilization in the streets of Chicago since the giant immigrant worker marches ten years ago. A recent Chicago acquaintance, Mark Ugolini, has a good piece posted on the Socialist Action site describing the issues and actions. While I am sure some committed to leading workshops that day were disappointed that hundreds of Conference participants were missing in action I'm just as certain none had hard feelings—they probably would have preferred to be in the streets too.
Some were late on Saturday because they were involved in a fund-raising breakfast for the Teamsters United slate challenging the Hoffa regime in an upcoming union election.
Socialist oriented publishing houses, such as Monthly Review and Haymarket Press, have long had a presence at these gatherings. But in all previous Conferences, Labor Notes would not permit socialist parties or groups to have "vendor tables." They were concerned some new to these events might be turned off by a bunch of radicals hawking their wares.
This year the ban on socialist literature tables was lifted and a workshop about What Is Socialism? was on the agenda. The Bernie Sanders campaign, and numerous polls, confirm that socialist is no longer a threatening bad word. Solidarity, DSA, ISO, and Socialist Alternative all had tables. Unfortunately, not all groups were informed of the changed policy in time to reserve a table.
Labor Notes has never formally endorsed a candidate in elections and cannot do so while maintaining their non-profit status. However, Labor for Bernie had both a strategy session next door to the conference hotel for those who support the Sanders campaign and a Conference workshop where various views could be expressed.
I was invited to observe the Bernie strategy session. But since I don't Feel the Bern, and was distributing a leaflet entitled We Need More Than a Bernie, calling for a revival of Labor Party Advocates, that would have been awkward. It would have been hard for me to remain silent—and I didn't want to be suspected of spying.
I did, however, have informal discussions with several prominent Labor for Bernie supporters. Of course, the official line is Bernie can win. While the Sanders campaign has exceeded all sober expectations, most recognize winning the nomination is a very long shot indeed.
Kshama Sawant's Socialist Alternative Party is still circulating a petition urging Bernie to run as an independent candidate should he fail to win the Democrat nomination. But the chances of the junior Senator from Vermont reneging on his oft-repeated pledge to support Hillary Clinton if she wins the party's nod is an even more remote possibility than his inauguration as President next January. His promise is not a tactical maneuver like Donald Trump's was for a while. Bernie actually believes the lesser evil must be supported against the reactionary Republicans. That is what he has done in every White House contest since he began caucusing with the Democrats in Congress. Ralph Nader has correctly identified Senator Sanders as a "Progressive Democrat."
Others, looking past the Democrat convention, are considering supporting Dr Jill Stein, the likely candidate of the Greens.
Still others, with a longer range post-election perspective, hope that sections of the broad but shallow Labor for Bernie can become a vanguard for building a new working class political force—perhaps a Labor Party Advocates type formation. We shall see.
As usual, this Conference was worthwhile for both those just entering the workers movement as well as seasoned veterans. For this, the organizers are to be highly commended. But due diligence requires noting a repetition of a very serious weakness in these gatherings—the failure to seriously address the overarching crisis of climate change.
To be sure, there was a workshop on Labor Confronts Climate Change. It offered a well qualified panel of unionists working to build a labor current in the climate justice movement. The facilitator, Sean Sweeney, has done much educating of unions on climate change and is playing a leading role in the global Trade Unions for Energy Democracy.
But their powerful message—that should have been delivered to one of the plenaries–was relegated to what was literally the smallest room available in the vast Conference Center complex. The official program book chose as the "featured session" for that time slot– Organizing Along Walmart's Supply Chain.
Of course, unions are still sharply divided over this issue. But they are sharply divided over many issues promoted by Labor Notes—not the least of which is Hillary vs Bernie. Some strong supporters of Labor Notes, such as the Amalgamated Transit Union and National Nurses United, have been out front in building a working class climate movement.
Now that even the socialists have been let out of the closet can we please also give labor climate activists a prominent role in preparing us to meet the greatest challenge in human history? I'm all for organizing Walmart's supply chain. But if we fail to also stop global warming and all of its ramifications–eventually there will be no more supply chains. "You can't make a living on a dead planet."
In Brief…
* Does your state legislature have a Sanctity of Life Committee? Most controlled by Republicans have such Orwellian named bodies for imposing theocratic rule. The Christian extremists in the Missouri Senate are threatening a contempt citation—which could lead to jail time—against Mary Kogut, president of Planned Parenthood in the St Louis region. I have no doubt that sister Kogut has nothing but contempt for the senators who believe those responsible for Original Sin don't have the right to control their own bodies. But the offense she is charged with is refusal to give them personal medical records whose privacy is strictly guaranteed by Federal law.
* Speaking of legislative jihad, I'm sure all readers have heard of the flurry of state laws that purport to defend the rights of the truly religious against offensive legislative and judicial laws against discrimination. The one in North Carolina also throws out municipal minimum wage laws for good measure. The most common examples cited are exemption of pious florists and cake decorators from touching the money for products to be used in abominable same sex marriages. But the Mississippi NAACP tells it like it is: "The innocuous-sounding HB 1523, 'Protecting Freedom of Conscience from Government Discrimination Act,' also known as the 'Religious Freedom Act,' has nothing to do with freedom or conscience and everything to do with discrimination. It is hatred. It is discrimination. And it is consistent with a state and governor who dedicated the month of April as Confederate Heritage Month to elevate and celebrate a heritage rooted in slavery and white supremacy. It is consistent with a state government that allows a symbol of hate and discrimination, the State Flag, to wave over its Capitol." Bruce Springsteen has canceled a gig in North Carolina and even major corporations and the film industry are threatening boycott of freedom to discriminate states.
* On April 6 Reuters reported, "An oil spill that surfaced in South Dakota over the weekend prompted Canadian pipeline company TransCanada to shut down its Keystone I pipeline, a predecessor to the controversial Keystone XL project. TransCanada had still not confirmed the leak as of Tuesday, calling it a 'potential incident.' According to Chris Nelson, chairman of the South Dakota Public Utilities Commission, the leak was first reported by a passerby. TransCanada reported to the U.S. Coast Guard on Saturday that 187 gallons of oil had leaked, Nelson said. The line is expected to remain closed all week. The leak is the most recent of dozens reported since the pipeline, which moves about 500,000 gallons of oil per day from the tar sands of Alberta to refineries in the U.S., was commissioned in 2010." A later report upped the estimated spill from 187 gallons to 16,800.
* John Kerry's first exposure to a national audience was his congressional testimony as an antiwar veteran with a Purple Heart earned in Vietnam. Today, of course, he is capping his long political career by taking over Hillary Clinton's old job of Secretary of State. A headline in yesterday's New York Times reports this one-time hero of the antiwar movement "Makes Sudden Trip to Iraq, Affirming U.S. Aid to Isis Fight." His current commander-in-chief, President Obama promised the War on ISIS/ISIL wouldn't require American boots on the ground. But at least two GIs have already been killed in the second round of the Iraq war. New lies trump old truths once told by young Kerry.
* Another nation-wide round of strikes and demonstrations by Fast Food workers fighting for 15 and a Union will take place this Thursday, April 14. The main solidarity event in Kansas City is at 5PM at the McDonald's at 63 & Paseo.
That's all for this week.
————————————————-
The WIR is available by RSS
If you want to be on our e-mail list send your name and e-mail address to: billonasch@kclabor.org
You can follow Bill Onasch on Google+
Check out our digest of news stories about working class and climate issues, posted Monday-Friday by 9AM Central. on our companion Labor Advocate blog.
Our sole source of operating income is reader contributions. If you can help please visit the KC Labor Donate page.