by Bill Onasch
A Short Detour
The lead topic of the last WIR was the still ongoing exposure of lies and dirty tricks by the world's richest corporations and their political servants to keep us ignorant of their climate wrecking in pursuit of super-profits. I promised that this week I would offer my perspective for how we can use this truth to reverse the course set by the ruling class short of disaster. But I'm going to take a little more oblique route to address some timely developments.
Friday was the first high profile Earth Day in quite awhile. Since I believe in recycling, for background on Earth Day I'll quote myself in the April 29 WIR last year,
"The 1970 first Earth Day in the USA was a big deal. Just in New York City alone, a million took part in a march down Fifth Avenue and a Rally-Festival in Central Park. There was also a giant action in Philadelphia and impressive ones in virtually every city and town across the country.
"The focus of this massive mobilization, that far exceeded the expectations of organizers, was palpable water and air pollution generated by industry, cars, and chemical agriculture. This outpouring, far broader in demographics than its campus instigators, had a salutary effect. It was the driving force leading to the passage of the Clean Water and Clean Air Acts along with the establishment of the Environmental Protection Agency. Those historic gains were supplemented by OSHA, the Urban Mass Transit Act, and Amtrak, making the Nixon years more productive on environmental measures than any other administration. The USA briefly became a vanguard in such governmental regulation, a model soon copied–and improved–by most other industrialized countries.
"But there was a letup after these swift and substantial achievements. Many in the fledgling ecological movement concluded that since they had now done the heavy lifting a system that seemed to still work could carry on with some occasional prodding and tweaking….Earth Day became a ritual observance, most years dispersed in to thousands of micro-gatherings focused primarily on green lifestyle adjustments. Big groups such as the Sierra Club, who ultimately grew to a million members, devoted most of their activity to lobbying, litigation and electoral endorsements."
All industries resisted the new government regulations resulting from Earth Day One, cheating where they could. But the fossil fuels industries breathed a sigh of relief because what they knew about global warming hadn't yet been exposed.
But this year's Earth Day, hosted by the UN, was staged to be all about climate change. The chosen venue came attached with some historical irony. The land for the New York City complex housing the United Nations Headquarters was donated by John D Rockefeller. His father started him off as a director of Standard Oil—main ancestor of Exxon-Mobil—as well as US Steel. He was also a director of the Colorado Fuel & Iron Company at the time of the bloody Ludlow Massacre that slaughtered wives and children of striking coal miners.
Accompanied by brass bands, and many school children bused in for the occasion, representatives of 170 countries were on hand for a ceremonial signing of the accord adopted by the Paris Climate Summit last December. President Obama was in England celebrating Queen Elizabeth's ninetieth birthday but Secretary of State Kerry, with a grand-daughter on his lap, signed for the USA. Al Gore, who had signed the first climate treaty in Kyoto in 1997—that President Clinton declined to submit to the Senate for ratification—was present and beaming. Among other VIPs was Leonardo DiCaprio.
So when can we expect all this pomp to change our circumstances? An AFP story explains it won't be a galloping pace—more the speed of the creatures that the French like to turn in to escargot,
"The next, and final, procedural phase will be ratification by individual governments. Countries which do not sign the document on Friday can do so in the year that follows. The agreement sets out broad lines of attack against climate change. It defines the goal of limiting global warming to 'well below' two degrees Celsius (3.6 degrees Fahrenheit) — 1.5 C if possible. It does not prescribe deadlines or targets for curbing planet-warming greenhouse gas emissions: these are described in further detail in non-binding pledges countries filed to shore up the pact….On current trends, scientists say, the world will warm by 4 C over benchmark pre-Industrial Revolution levels — or 3 C if countries live up to their pledges."
A 4C world could not sustain human civilization as we know it. 3C would be only marginally less disastrous. It could take many centuries for the greenhouse layer to dissipate to pre-industrial levels. Even if the current non-binding pledges are met we would be bequeathing unrelenting misery to future generations.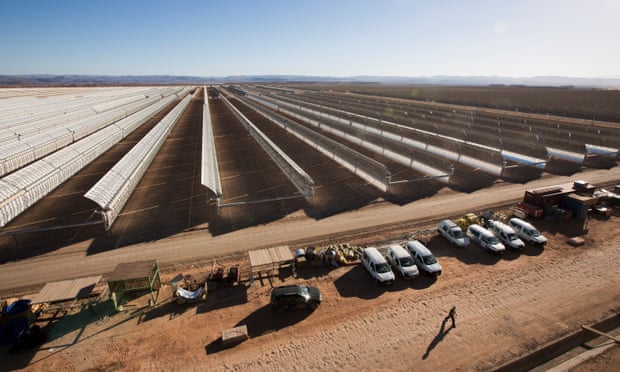 Since the dominant driving force of global warming is fossil fuels the solution would seem obvious—commit to completely replace fossil fuels with clean, renewable, freely available energy sources like solar, wind, and tidal, as quickly as possible. That is in fact what nearly all climate scientists propose. There are credible estimates that an emergency crash program could accomplish this goal in 20-25 years.
But those who own the polluting global economy, and control most governments, reject such measures that mortally threaten their profits and rule. They will not agree to more than tactical tinkering. That's why the non-binding goals are all over the map.
The U.S. largely relies on a temporary reduction in power plant emissions due to conversion from coal to now cheaper fracked natural gas. In fact half of Obama's pledge had already been accomplished when his plan was initially announced nearly two years ago.
However, tiny Holland, home base of Royal Dutch Shell, has a wary eye on rising sea levels. They plan to ban all cars other than plug-in electrics by 2025—while Shell continues business as usual elsewhere.
Like the dandelions that pester my wife's lawn and garden efforts, nuclear power advocates, in the camp of General Electric, are again sprouting, fertilized by the lack of progress toward needed elimination of fossil fuels. This past week, Eduardo Porter wrote a New York Times article entitled "Liberal Biases, Too, May Block Progress on Climate Change." He says,
"Ted Cruz's argument that climate change is a hoax to justify a government takeover of the world is absurd. But Bernie Sanders's argument that 'toxic waste byproducts of nuclear plants are not worth the risks of the technology's benefit' might also be damaging."
He bolsters his attack on an alleged anti-science left with a Pew Poll showing a big majority of the American Association for the Advancement of Science favor more nuclear power.
It is true that some scientists—even the dean of climate scientists, Dr James E Hansen—have in utter desperation shown conditional support for nuclear power as an emergency stop-gap measure due to inaction on replacing fossil fuels with safe, clean, renewable energy available free of charge.
The WIR has dealt with this issue numerous times over the years. For the benefit of new readers I'll briefly explain why I disagree with Hansen–who I much respect and admire–and dismiss Porter's twisted pro-corporate line.
It is true that nuclear power plants produce negligible greenhouse emissions where they generate electricity. But their advocates ignore the vast amounts of emissions resulting just from the mining, refining and transporting their fuel. The fuel is not renewable—it depends on a dwindling supply of extractable uranium. They are anything but safe. Reactor accidents can be catastrophic. And there's no known proven method for safe disposal of waste that can remain dangerous for centuries. These objections are not political bias—they are based on solid science.
This completes my detour—next time I'll keep my promise of discussing what working people can do right now to work for climate as well as class justice.
In Brief…
* An AP dispatch, "The Chicago Teachers Union said the countdown toward a possible strike had begun after it rejected the recommendation of a neutral arbitrator that it accept a contract offer from the nation's third-largest school system. The union said the earliest a strike could begin is May 16, about a month before the last day of school on June 21. The union also could strike in September, when school resumes for about 400,000 students."
* Mark Ugolini, a new writer at Socialist Action, has done a good piece on recent strikes and demonstrations of Fast Food and other low wage workers fighting for 15 and a Union.
* My bus driver friend Rod in Vancouver has kept me informed about a likely strike by bus drivers, Sea Bus captains, maintenance and other transit support workers in that city. The company managing the privatized system is demanding concessions. A strike vote will be taken April 28. My last visit to Vancouver was during the last transit strike in 2001 that lasted four months.
* 216 zookeepers, groundskeepers, craftsmen, janitorial staff and police officers represented by Teamsters Local 727 have reached a tentative agreement with the Brookfield Zoo in suburban Chicago. Their previous contract had expired December 31. The main issue in dispute was health care costs and the union had filed Unfair Labor Practice Charges. The workers had pledged basic care for animals in the event of a strike. No details of the TA have yet been made public.
* I'm not sure where the Earl of Downton stood but the British House of Lords forced the Tory government to back off canceling the equivalent of union dues check-off for public sector workers.
That's all for this week.
---
The WIR is available by RSS
If you want to be on our e-mail list send your name and e-mail address to: billonasch@kclabor.org
You can follow Bill Onasch on Google+
Check out our digest of news stories about working class and climate issues, posted Monday-Friday by 9AM Central. on our companion Labor Advocate blog.
Our sole source of operating income is reader contributions. If you can help please visit the KC Labor Donate page.