by Bill Onasch
Sick Teachers In Detroit
They're not getting sick from the water like their colleagues in Flint may be but recently poor health days have at times closed 88 schools. The Detroit Free Press gives a good diagnosis of what ails them,
"Teachers have been using the sick-outs to call attention to poor building conditions, low wages, crowded classes and their concerns about pending education reform legislation."
There are 46,000 enrolled in Detroit Public Schools. DPS has been run by a string of Michigan's trademark "emergency managers" appointed by the Governor since 2009. One of them was a former Kansas City Superintendent, Dr John Covington, who made his bones by closing nearly half the schools, and eliminating 700 KCPS jobs in my home town. It's estimated DPS will run out of funds by April. Near zero job satisfaction among classroom educators is hardly shocking news.
Teacher strikes are illegal in Michigan. Governor Rick Snyder undoubtedly would like to have unions outlawed too. But he knows Rome wasn't completely sacked by vandals in a day. He has taken measured steps in eliminating effective collective bargaining and requiring unions to beg for their dues. He thought he had this latest impertinence by public servants covered too and quickly ordered his minions in Detroit to take the sickos to court.
Normally in labor disputes the employer finds a Black Robe to grant, for just the asking, at least a Temporary Restraining Order against the workers. During a 1979 strike at Litton Microwave I received a telegram warning me I was already in contempt of court for violating a TRO that the UE's lawyer hadn't yet had a chance to show me.
But Snyder's shysters had the bad luck to get a judge who wanted to see some evidence before pounding her gavel. Perhaps the credibility of Snyder's helpers had been somewhat compromised when they included among the defendants a teacher who was on an approved FMLA leave battling cancer.
It didn't hurt that at a second hearing the courtroom was packed with teacher supporters wearing red with at least 100 more loudly demonstrating outside. In any case, Her Honor has postponed any action until yet another hearing on February 16. Steve Conn, former Detroit Federation of Teachers president—and a defendant—was quoted by Al Jazeera America, "The governor and the school district's emergency manager should be put on trial, not teachers."
The teachers have won an initial defensive victory in their resumption of hostilities with the right-wing boss government.
The Supreme Emergency Manager residing in the Governor's mansion in Lansing has to fend off popular demands for his resignation—if not prosecution—over the poisoning of Flint's water supply. He will be somewhat distracted.
But the cracked tea-pots running the legislature have their leader's back in his time of need. They have to pass an education bill soon. So far, they had been talking about splitting the district in to two separate but unequal parts. One would return to an elected school board– and would inherit a more than 300 million dollar debt. The other would be governed under rules set by the state and the Mayor of Detroit and would get start-up funding of 200 million. Now there is discussion of adding new draconian anti-worker measures as well. Kind of makes you feel—sick.
The teachers have earned praise for reviving struggle against ruthless austerity that has been felt one way or another by every worker and their families in Michigan. They are taking great personal risk that could mean not only being fired but blacklisted. They deserve active solidarity by all workers public, private, and jobless in their state—and beyond.
New Issue, Old Debates
During my formative years there were two truly massive social movements that had enormous impact on American society. What became known as the civil rights movement confronted institutionalized racism with some success from the mid-Fifties through the late Sixties.
The movement against the Vietnam war involved literally millions in a variety of protests from the mid-Sixties to mid-Seventies–and played a major role in finally ending that criminal conflict that claimed the lives of at least two million Vietnamese and more than 58,000 Americans.
Relax. I'm not about to pursue a lengthy dissertation about the history of these historic movements–much less a personal sentimental journey down memory lane. I believe we have the potential and obligation to build an even bigger mass movement today around an even more crucial issue for all humanity, all living things on our planet—climate change.
The new movement is forming with resources that were in the realm of science fiction during the old—powerful desk top computers, connected to laser printers, supplemented by lap-tops, tablets, and mobile "smart" phones are ubiquitous. We no longer think twice about placing a long-distance phone call. And above all—the Internet.
As different as this new issue, along with new technology may be, we see old debates from those movements of my youth already again shaping up in the fledgling climate movement that must win the minds and hearts of Millennial youth–and the broader working class.
Some disputes may be over core principles whose outcome could be deal breakers for some. But most will center on strategy and tactics that will ultimately be tested and judged in action. While in no way discouraging innovation, it would be foolish to ignore the successes, limitations, and outright disasters of past mass movements. Here are some examples of old questions that are again relevant to a new movement:
Is the new movement going to focus on climate change like, for example, 350.org and Trade Unions for Energy Democracy or be multi-issue such as Avaaz? Should the main tactic of the new movement be periodic mass, peaceful demonstrations or dramatic acts of civil disobedience? What about lobbying and electoral endorsements? Should the movement's demands be statements of sentiment or offer concrete alternatives to present fossil-based economies? And what is an appropriate structure to decide these and many other questions in a way that is both democratic and unifying?
For now, I am just suggesting how I think discussion and debate about the character of a mass climate action movement should be framed. In subsequent WIRs I'll give my views on specific topics. But I would also like to hear from readers on these questions.
A cryptic note inserted by WordPress near the bottom of the WIR says, "Sorry, the comment form is closed at this time." I frankly don't have time to moderate comments which are often spam, hate mail, or less than rational rantings. But serious comments sent to the same e-mail address listed below for signing up for e-mail subscriptions will at least be acknowledged and probably mentioned in the WIR.
As always, we should discuss in order to decide—and decide in order to act.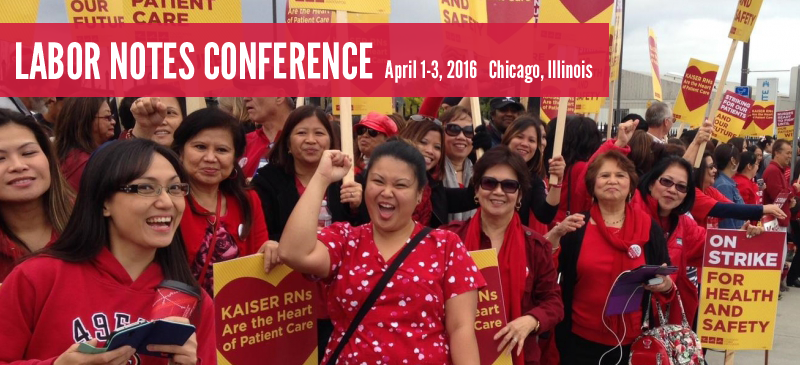 No Worm—Just 45 Bucks
There's only a couple of weeks left to take advantage of Early Bird registration for the April 1-3 Labor Notes Conference in Chicago. For now you can sign up for 105 dollars; after February 15 it goes up to 150. These biennial conferences sponsored by the informative magazine are always the biggest collection of labor activists under one roof in North America. You can get all the information you need here.
Northern Light
From time to time I like to remind readers in the Upper Midwest about a Twin Cities treasure—the East Side Freedom Library. Initiated by two retired professors, Beth Cleary and Peter Rachleff—who seem to work well together—the repurposed branch library on St Paul's diverse East Side has established a valuable archive of historical records of several waves of immigration. On February 10 they will celebrate the consolidation in their venue of several collections of Hmong "artifacts, artwork, documents and more that tell the stories of the Hmong people, in all their lands including Minnesota."
But ESFL serves more than historians. They host public forums, film showings, live music, book discussions, story telling, and more. In February, they are marking Black History Month with five "Black films" that escaped the attention of the Motion Picture Academy.
If you are in that neck of the woods, check out the ESFL. I'm sure you will be motivated to return—and maybe give them a few bucks to help this worthy project to live long and prosper.
In Brief…
* After months of boss filibuster, the Chicago Teachers Union has reportedly received a serious contract offer from Chicago Public Schools. The union's 40 member Big Bargaining Team will meet Monday, February 1 to discuss whether it meets the requirements of a Tentative Agreement to be submitted to the full membership. No details will be released until after Monday's meeting.
* A headline in The Guardian caught my attention—Vladimir Putin Accuses Lenin of Placing a 'Time Bomb' Under Russia. The apostate Communist, ex-KGB officer and current strongman in the Kremlin's denunciation of the principal leader of the Bolshevik revolution centers on the heritage Lenin established of guaranteeing the right of self-determination for non-Russian nationalities. The Donald Trump admirer did, however, reassure reporters there are no plans to remove the macabre display of Lenin's embalmed remains that are still a major tourist draw.
* The National Oceanic and Atmospheric Administration opened an announcement, "The United States could slash greenhouse gas emissions from power production by up to 78 percent below 1990 levels within 15 years while meeting increased demand, according to a new study by NOAA and University of Colorado Boulder researchers." No new secrets were revealed—this rapid reduction can be accomplished by expanding readily available clean renewable sources like solar and wind.
* Flint native and activist film maker Michael Moore is asking well meaning folks not to send bottled water to those who can't drink from the tap in his town of origin. To find out what he suggests instead, click here.
That's all for this week.
————————————————-
The WIR is available by RSS
If you want to be on our new e-mail list send your name and e-mail address to:
billonasch@kclabor.org
You can follow Bill Onasch on Google+
Check out our digest of news stories about working class and climate issues, posted Monday-Friday by 9AM Central. on our companion Labor Advocate blog.
Our sole source of operating income is reader contributions. If you can help please visit the KC Labor Donate page.