Whose Holiday?
It's Labor Day in the USA. The owners of the Kansas City Royals have chosen to make it a day saluting the military. Wikipedia explains the national holiday's 1894 origins,
"Following the deaths of a number of workers at the hands of the U.S. military and U.S. Marshals during the Pullman Strike, the United States Congress unanimously voted to approve rush legislation that made Labor Day a national holiday; President Grover Cleveland signed it into law a mere six days after the end of the strike. The September date originally chosen by the CLU of New York and observed by many of the nation's trade unions for the previous several years was selected rather than the more widespread International Workers' Day because Cleveland was concerned that observance of the latter would be associated with the nascent socialist and anarchist movements that, though distinct from one another, had rallied to commemorate the Haymarket Affair in International Workers' Day. All U.S. states, the District of Columbia, and the territories have made it a statutory holiday."
The principal leader of the Pullman strike, Eugene V Debs, was sentenced to six months in the Woodstock Illinois jail for his defiance of Cleveland's strike-breaking injunction. Prior to then he had been, like Cleveland, a Democrat. Running on that party's ticket Debs was twice elected City Clerk of Terre Haute and served a term in the Indiana state legislature. His incarceration by labor's White House "friend" led to an intensive education in the ideas of "nascent socialists." Upon his release, Debs was welcomed by thousands of workers meeting his train in Chicago. From there he went on to become the most prominent socialist in American history.
Debs never regretted his break with one of the twin ruling parties of capital. His old party certainly never forgave him. Twenty-four years after Pullman the aging Debs was again imprisoned by another Democrat President—Woodrow Wilson, reelected to a second term on the slogan "he kept us out of war." Debs was convicted of "sedition" for speaking against American entry in to what Wilson called the War to End All Wars—what we now know as the First World War. Debs, who had crisscrossed the country speaking from a chartered train known as the Red Special in earlier presidential campaigns was confined to the Atlanta penitentiary during the 1920 contest. He still garnered nearly a million votes.
The conversion of Debs is an instructive example that working class Democrats—even those elected to office—are not necessarily traitors to their class beyond redemption. The millions still confused by the pretensions of the Democrats as the party of labor can and must be won over to class awareness. All polls indicate that they are more disaffected from the two party boss monopoly than at any time in living memory. And they also show socialism is no longer such a dirty word.
But we must be wary of those calling themselves socialists, evoking the name of Debs, while comfortably ensconced in the Democrat camp–and who urge us to join them in that party for "political revolution." They are on the wrong side of an indelible class line drawn by Debs after he experienced the repressive, violent treachery of the Democrats up close and personal.
While I wouldn't touch the party of Grover Cleveland with a ten-foot pole, I am more than willing to embrace the holiday he used as a sop to calm an outraged working class. Nor do I see the need for competition between this universally recognized holiday and the May 1 International Workers Day mainly observed today in this country by immigrant workers and radicals. Our class deserves at least two holidays.
In a few cities there will be labor-organized parades and many will host family picnics. Wherever union women and men gather they should stand in solidarity with workers in struggle with union-busting bosses. Two current fights have not received the attention they deserve. Michael Hiltzik wrote in the Los Angeles Times,
"As we approach Labor Day, the old question about what unions are good for is being played out in the steel industry, where Allegheny Technologies has locked out more than 2,000 workers in an effort to extract sizable concessions on health and retirement benefits from the United Steelworkers union. Allegheny intends to replace those workers with non-union workers — in common parlance, scabs — who will be offered jobs for temporarily premium wages, no benefits, and a guarantee that they will be out of a job as soon as a new contract is signed."
In Tucson, striking Teamsters organized bus drivers are up against both City Hall pushing austerity and a French-based multinational Transdev hired to manage public transit. Well before the strike, Transdev started advertising on Craig's List in several cities for "temporary drivers" that would be paid more than the current union rate. They also rounded up key experienced personnel from their operations in southern California. This too is a tough fight that deserves the support of all labor.
Of course, many workers—including WIR readers–will have to work today. Regardless of your plans, I wish you and yours the best on this holiday named for us.
Pious Criminals
When the "Founding Fathers" submitted a draft U.S. Constitution the number of democratic rights included equaled the total of visible hairs on Patrick Stewart's scalp. That didn't sit well with the free farmers and workers who had fought a Revolutionary War against tyranny—and who still had their guns within easy reach. They forcefully demanded—and got—inclusion of Ten Amendments right off the bat. In school we learned to call them the Bill of Rights.
Those rights included freedom to worship, a good thing. They also denied government the power to support or favor any religion—just as good a thing. I know of no one who advocates denying the Christian extremest Kim Davis the right to worship at her Apostolic church. But even a Bush appointed Federal Judge could not allow her to use her elected office as County Clerk to impose the views of her sect by denying marriage licenses in Rowan County, Kentucky—even after being twice ordered to cease and desist by the Judge.
The shyster representing Mrs Davis had the Chutzpah to compare his client denying civil rights to the civil rights champion Dr Martin Luther King. All proportions guarded, a more accurate comparison would be Orval Faubus, the Arkansas Governor who in 1957 called out the National Guard to block Federal Marshals from enforcing a court order to desegregate Little Rock Central High. The moderate Republican President Eisenhower—familiar with Army institutions—took control of the Guard and used them to escort brave Black students to their classes.
Bigoted Christian zealots think they have found a martyr and politicians are scrambling to get some advantage as well. They are welcome to her. The big majority of the two million incarcerated in this country are behind bars for offenses far less serious than using public office to compel compliance with their religion–abrogating rights of others under the law.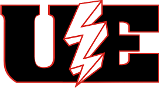 Still a Union With a Difference
Two/thirds of the "troika" of co-equal national officers in the United Electrical, Radio & Machine Workers (UE) to which I once belonged have retired. Bob Kingsley did a remarkable job as Director of Organization in helping to keep this independent union viable and relevant despite massive plant closings by General Electric, Westinghouse, Allen-Bradley, Stewart-Warner, Litton Microwave, among others. He is replaced by respected veteran International Rep Gene Elk.
Shortly after the Union's Baltimore convention the UE was able to announce a major legal victory,
"On August 27, the National Labor Relations Board (NLRB) Region 6 issued a complaint against General Electric, charging that the company is unlawfully removing union work away from UE Local 618 members in its Erie, Pennsylvania plant, and with discriminating against employees because of their membership in their union. NLRB Region 6 has also rejected GE's claims that its Fort Worth, Texas locomotive plant is not a GE facility. The NLRB concluded that GE and 'GE Manufacturing Solutions' (GEMS), the name under which it operates the Ft. Worth plant, 'constitute a single-integrated business enterprise and a single employer under the meaning of the (National Labor Relations) Act.'"
General President Bruce Kipple also retired. I know his successor, New England Region President Peter Knowlton, for the yeoman work he put in building US Labor Against the War and his support for the Labor Campaign for Single-Payer.
The convention additionally voted to become the first national union in the USA to support the Boycott, Divestment and Sanctions movement (BDS) to "pressure Israel to end the occupation and grant Palestinians their freedom."
After some discussion for the benefit of first-time delegates, the convention reaffirmed the principle that no UE official can draw a salary higher than that of the highest paid working member they represent. Once common in the newly established CIO unions, today it is another example of UE's claim of difference.
Hats off to the UE 74th National Convention and good luck to the officers they elected.
Correction
Perhaps my memory got stuck in a time warp back to my UE days. In the last WIR I mistakenly said the new leader of the British Labor Party would be selected at an annual conference. That one time custom was a victim of Tony Blair's New Labor aimed at marginalizing the influence of the unions that founded the party. Balloting by individual members in good standing will pick the new leader.
While there's a lot more that could be said this is probably enough for a holiday. I swear on all that I hold holy that I will deal with President Obama's climate plan next time.
That's all for this week.
————————————————-
Subscription options for the WIR include:
RSS Google Groups Yahoo Groups
You can follow Bill Onasch on Google+
Check out our digest of news stories about working class and climate issues, posted Monday-Friday by 9AM Central. on our companion Labor Advocate blog.
Our sole source of operating income is reader contributions. If you can help please visit the KC Labor Donate page.