by Bill Onasch
A wag suggested I change the name of this blog to Fortnight In Review. Point taken. I regret that a combination of health problems (nothing drastic) and other writing commitments (now done) along with indulgence in following the defending American League Champion Kansas City Royals, got me out of my weekly rhythm. Here's a "double-issue" today and a Labor Day edition should get me back on schedule.
I said last time that I would take up the Obama climate plan this time. I'm delaying that to deal with some important developments in the American labor movement.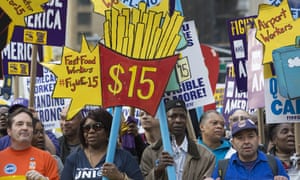 Dragging the Real Boss Out of the Shadows
It's not often that our side gets any big victories from National Labor Relations Board rulings but their decision handed down Thursday in a case concerning contract workers at a Browning-Ferris recycling plant in California that the Teamsters were trying to organize has the potential to be a real game-changer. NLRB Chairman Mark Gaston Pearce wrote in the majority opinion,
"The contingent work force has grown significantly over the past several decades. The general counsel submits that in many contingent arrangements, the user firm – Leadpoint in this case, or a local McDonald's –has limited and routine supervision over employees, and indirect or potential control over terms and conditions of employment. Nonetheless, the user firm can influence the supplier firm's bargaining posture by threatening to terminate its contract with the supplier if wages and benefits rise above a set cost threshold.
"The general counsel recommends the board find joint-employer status where an employer – BFI in this case, or McDonald's headquarters, for example – 'wields sufficient influence over the working conditions of the other entity's employees such that meaningful bargaining could not occur in its absence.' Such an approach would make no distinction between direct, indirect, and potential control, and would find joint-employer status where industrial realities make an entity essential for bargaining."
The media mostly picked up on the implications of the ruling for the Fast Food industry—and for good reason. The mass movement for 15 and a Union backed by SEIU now has a realistic path to winning union recognition and contracts that can improve working conditions, and win just treatment on the job, as well as pursuing a fifteen dollar wage. This industry alone has more than three million workers.
But that's just the tip of the iceberg that could sink the bosses' contingent worker Titanic. Also affected are such groups as the "independent" truckers in the Port of Los Angeles, hundreds of thousands of distribution workers such as those the UE have been organizing in Chicago's giant Logistics Belt, taxi drivers, newspaper delivery carriers. And it will mean a lot in manufacturing as well. A Reuters story reports,
"Manufacturers including auto workers, food processors, steelmakers and aerospace companies are potential targets for union campaigns, said Elizabeth Bunn, director of the AFL-CIO's organizing department, noting that plant workers are often not directly employed by the parent firm. 'You literally can walk into almost any nonunion manufacturing plant in the United States and you'll see workers working on a line and not be able to distinguish who is temp from an agency and who is a direct employee of the company,' she said."
Sister Bunn's observation is accurate—except for the nonunion part. You'll find the same situation in many union workplaces. The main issue in the oil refinery strikes earlier this year was the growing number of more or less permanent contractor workers doing the same kind of work as union members.
As the Board chair noted, this contingency problem has been growing for decades with only occasional whining by union officials. There can be no doubt that what finally brought it to a head was the mass movement of Fast Food workers winning sympathy and active solidarity from the working class majority. If other unions can adopt a similar strategy then we should be on the road to a rejuvenation of American unions.
Of course, the boss class is not accepting this sea change with good grace. But the Board chose Browning-Ferris for their standard because it will be very difficult to challenge in the courts. The shadow employers hope to get it reversed by the Republican Congress. But the same Reuters article explains this will not be a slam dunk either,
"But any bill targeting Browning-Ferris would join other Republican measures aimed at reversing NLRB decisions that have yet to become law, and would likely face a veto as long as a Democrat is in the White House, said Walter Olson, a senior fellow who tracks labor law at the libertarian Cato Institute."
There can be no more excuses. It's time to unionize the unorganized.
Will Partners Form Co-Op?
Back in the day, UAW negotiations with the Big Three automakers were always big news. They were pace setting for advances in manufacturing sector collective bargaining in the world's biggest economy. Benefits in health care, retirement, and job security similar to those won by workers in Europe through social legislation were steadily inserted in to UAW contracts—sometimes after major strikes–during the reign of Walter Reuther, founder of today's one party regime still ruling Solidarity House. Other unions demanded the same and many got some version of these important "fringe" benefits.
Today, unless you live in Detroit or read the Wall Street Journal, you might not even be aware that negotiations with General Motors, Ford and Fiat Chrysler Automobiles, are well under way with present contracts set to expire in about two weeks. The Big Three, with less than a half share of the American market, no longer dominate and the UAW represents less than half the workforce of an industry once 100 percent unionized. GM employs more blue collar workers in Mexico than they do in the USA. It's now the bosses who look forward to UAW agreements—negotiated in a spirit of "partnership" with Big Three management—that have been marked by give-backs on wages, benefits and working conditions for the last thirty years.
Particularly "transformational" was the 2007 contract. It froze wages of then current workers and established a tiered classification for new hires at about half the old hourly rate. The Tier 2 workers were also stuck with substandard retirement and health insurance.
And retirees, now greatly outnumbering active workers, lost their company provided health insurance. Each company made a one-time payment to establish a Voluntary Employee Benefit Association (VEBA) run by the union to continue some assistance for retirees who had been hired before 2007. It's now the UAW's task to conservatively "manage care" like an insurance company for these old-timers. Future Tier 2 retirees will get nothing.
A little more than a year after those massive give-backs, as the Great Recession took hold the Big Three demanded and got an emergency contract re-opener for further concessions. These included elimination of the eight-hour day, cancellation of numerous bonuses, fewer holidays, reduction of Supplemental Unemployment Benefits, shorter breaks, and confiscation of what remained of an already much diverted Cost of Living Adjustment.
But still the Big Three kept hemorrhaging losses. Claiming to also be too big to fail they wanted a government bail-out like the financial sector got. But unlike with the banks, the new Obama administration offered to "save the American auto industry" only if they accepted a "prepackaged" bankruptcy under terms dictated by the White House. Ford said no thanks and managed to survive and recover without a bail-out but General Motors and Chrysler signed on.
The President designated his Chief-of-Staff Rahm Emanuel—now Chicago Mayor at war with teachers and nurses—to expedite a far reaching downsize to make the companies leaner and a whole lot meaner. Italian-based Fiat was approved to take over Chrysler. Numerous plants were closed and the Pontiac, Saturn, and Hummer brands were snuffed. There was also much collateral damage as parts suppliers lost orders, hundreds of dealership franchises were terminated, and rail and truck transport of vehicles was curtailed. It's estimated that all told this added up to 100,000 jobs axed at the peak of the Recession.
The White House, in collusion with the Canadian government carrying out a parallel plan, also extracted still more take-aways from the UAW contract—and banned strikes over economic issues until 2015.
Today, the Big Three are all in good shape. Sales are strong and relatively cheap gasoline has lured many to thirsty light trucks and SUVs loaded with highly profitable accessories such as GPS, WiFi, DVDs, and satellite radio.
And now finally free to strike again—the Fiat Chrysler unit has already delivered a 97 percent strike authorization vote–the union is facing three major contentious issues:
* Company declarations of their intent to move more jobs to Mexico and to import cars from China.
* Union demands for a first general hourly wage boost in more than a decade for Tier 1 workers and eliminating, or at least improving Tier 2.
* Finding a solution to yet another health care crisis exacerbated by the looming new tax on "Cadillac Plans" that is part of the so-called Affordable Care Act championed by the UAW and practically the entire labor movement.
There is strong rank-and-file sentiment for rolling back the two-tiered structure. The Detroit Free-Press reported on a recent gathering in Detroit, "Activists that are part of a group called Autoworker Caravan worry that UAW leaders have become to cozy with the automakers and must be pressured to negotiate tougher with the Detroit Three."
Some compromises on the first two issues probably can be worked out by the "partners." Whether they will satisfy the ranks enough to avoid a strike is an open question.
UAW president Dennis Williams has put forward an unexpected health proposal described by the Free-Press,
"a radical idea for a massive health care benefits co-op designed to save the Detroit Three money and avoid worker concessions could be the pillar of a groundbreaking labor agreement that changes the auto industry forever…. Even UAW President Dennis Williams knows it's a risky proposition, but he and UAW leadership say controlling Detroit Three health care costs is paramount to preserving worker benefits and keeping the automakers healthy. It has emerged as one of the UAW's top priorities with less than a month before the current contract expires on Sept. 14."
Whether ground actually gets broken on this "radical idea" is dubious. It is a reminder of the futility of trying to provide affordable quality health coverage through collective bargaining. More truly radical ideas are long overdue.
Last week I posted on Labor Advocate a link to a story in the Bullet about the fight in Britain against ongoing Tory chiseling away on the National Health Service. Also known as socialized medicine, the NHS was established by a Labor Party government in 1948. Supported by taxation, it provides not only all medical services but also prescriptions, dental care, mental care, eyeglasses and hearing aids at no out of pocket cost to users. It's always available even if you change jobs, move to another city, or become unemployed.
Included in this useful Bullet article was a chart of OECD comparison of health outcomes and costs of the G7 industrialized countries. I'll break out three for contrast—Britain's NHS, the USA's Affordable Care Act, and the single-payer Medicare won through Canada's NDP labor party.
The USA spends 16.9 percent of GDP on health care; Canada 10.9; Britain 9.3.
Male life expectancy at birth: USA, 76.3; Canada, 79.3; Britain, 79.1.
Infant mortality per I,000 live births: USA, 6.1; Canada, 4.8; Britain, 4.1.
I don't mean to suggest that workers in Britain and Canada live in proletarian paradise. They certainly have their battles. But in health, and other important areas, they have demonstrated what can be done through social legislation won by worker parties in English speaking countries. The working class in those nations can advance further and faster as a result of these secured victories.
That is the line of march that should have been taken by the UAW and other unions when there was also widespread sentiment for a labor party—and socialized medicine–after World War II in the world's richest country. Most unions again turned a cold shoulder on another promising Labor Party project launched in 1996.
Partnership with the Big Three employers has gutted much of the bargaining gains won by the UAW in past battles waged through sit-downs and on picket lines. Subservience to perfidious Democrat "friends" got them a job wrecking bankruptcy and an onerous tax on their health insurance.
The Labor Campaign for Single-Payer Healthcare is co-sponsoring a major National Single-Payer Strategy Conference in Chicago October 30-November 1. Revival of the movement for this major reform, that was the most popular in polls prior to the ObamaCare sell out, is a worthy project.
But as we saw five years ago, winning public sentiment, while necessary, is not in itself sufficient. When the President's push came to shove, nearly all Democrat supporters of single-payer—including Senator Bernie Sanders—caved in. It took labor parties to win socialized medicine in Britain, single-payer in Canada. That's what we in the USA must do as well.
In Brief…
* SEIU Local 503 has won an impressive victory for 24,000 Oregon home care workers. A tentative agreement boosts pay to 15 dollars an hour by 2017 and also provides for retirement benefits and paid time off.
* Reeling from a humiliating loss in British parliamentary elections earlier this year, the "New" Labor Party forged by Tony Blair may be headed toward its old ways. Jeremy Corbyn, a left socialist long associated with the late Tony Benn, is the odds-on favorite to be elected as the party's new leader at its annual Conference this Fall. The Guardian said, "Jeremy Corbyn has told his Labour critics that his mandate to lead the party will stretch beyond Westminster if he wins the contest to succeed Ed Miliband. Amid rising concern among established Labour figures at the apparently unstoppable momentum behind the veteran leftwinger, Corbyn said his campaign has captured a public mood against austerity also seen in Spain, Greece and the US."
* In the early stages of Canada's Federal parliamentary election campaign polls show the NDP labor party way out in front with forty percent support.
* During the 1950s, Gallup Polls consistently registered public approval of unions around 70 percent. That rate more or less steadily declined since, bottoming out at 48 percent in 2009. A new poll released last week shows a sharp uptick to 58 percent. That's still not great but perhaps not bad for a body the boss press keeps trying to bury.
* Workday Minnesota reports, "Kip Hedges, the Delta baggage handler fired for speaking out on behalf of low-wage airport workers, has reached a settlement with Delta Air Lines in his wrongful termination lawsuit. The terms of the settlement, which was filed Aug. 13 in U.S. District Court in Minneapolis, were not disclosed. While not able to provide details, Hedges said, 'I'm very happy with the settlement. I thank everyone for standing with me.' He said he will not be returning to work at the airline. Messages of support and donations poured in after Delta fired Hedges in December for remarks he made in a video for Workday Minnesota."
* Still more from Workday Minnesota, "Hundreds of Steelworkers and supporters from across Minnesota's Iron Range marched and rallied on Thursday as part of nationwide actions by the union as it fights concessions demanded by U.S. Steel, ArcelorMittal and Cliffs Natural Resources."
* Last but never least, is an announcement for the benefit of our Twin Cities readers, "The East Side Freedom Library will host 'A Celebration of the Arts in Labor' on Saturday, Sept. 5, featuring music, poetry, visual art, puppetry, fiction, theater and story telling from several well-known figures in the Twin Cities. The program, which is free and open to all, will run from 1 to 4:30 p.m. at the library, 1105 Greenbrier St., on St. Paul's east side."
That's all for this week.
————————————————-
Subscription options for the WIR include:
RSS Google Groups Yahoo Groups
You can follow Bill Onasch on Google+
Check out our digest of news stories about working class and climate issues, posted Monday-Friday by 9AM Central. on our companion Labor Advocate blog.
Our sole source of operating income is reader contributions. If you can help please visit the KC Labor Donate page.